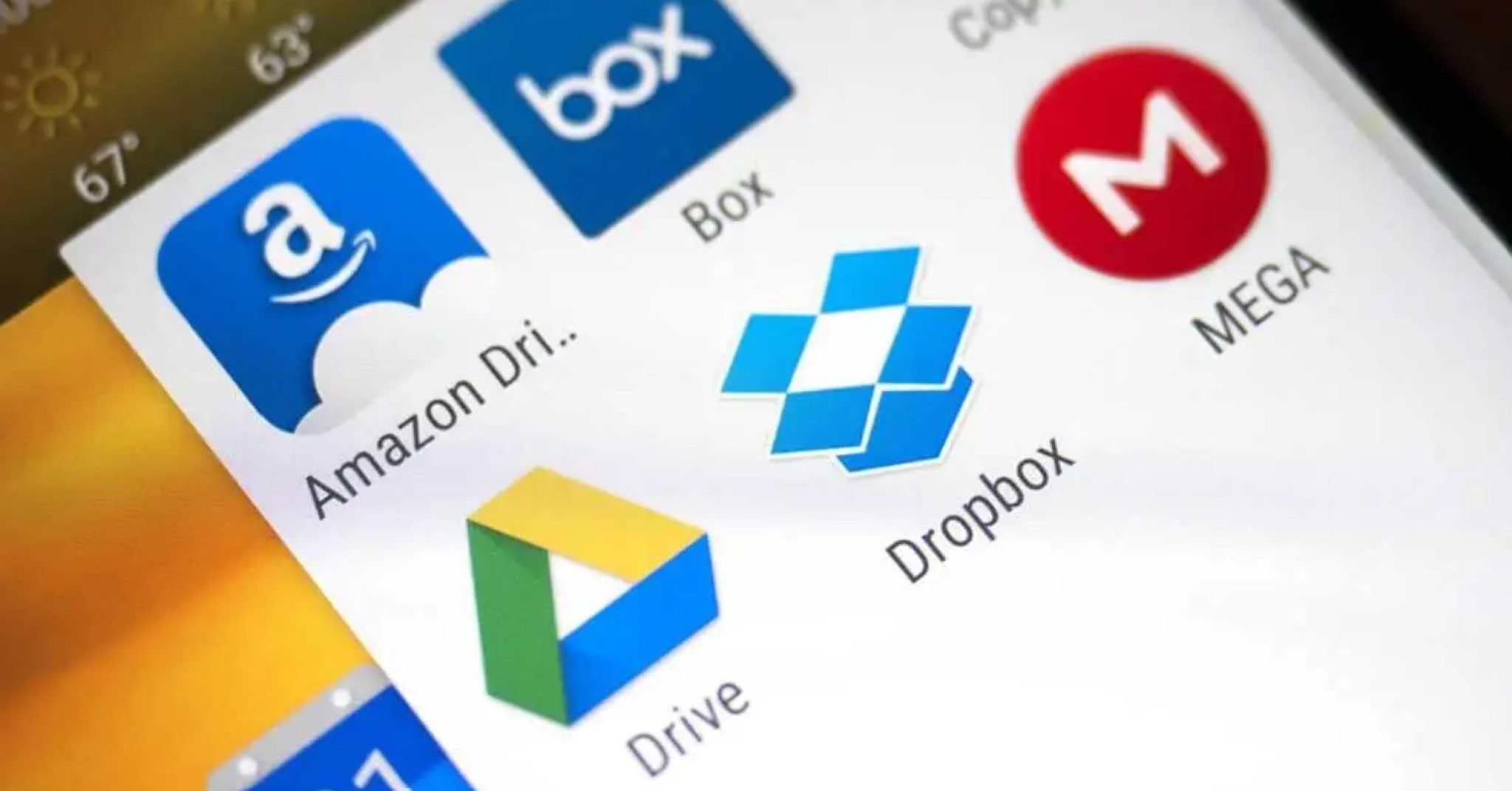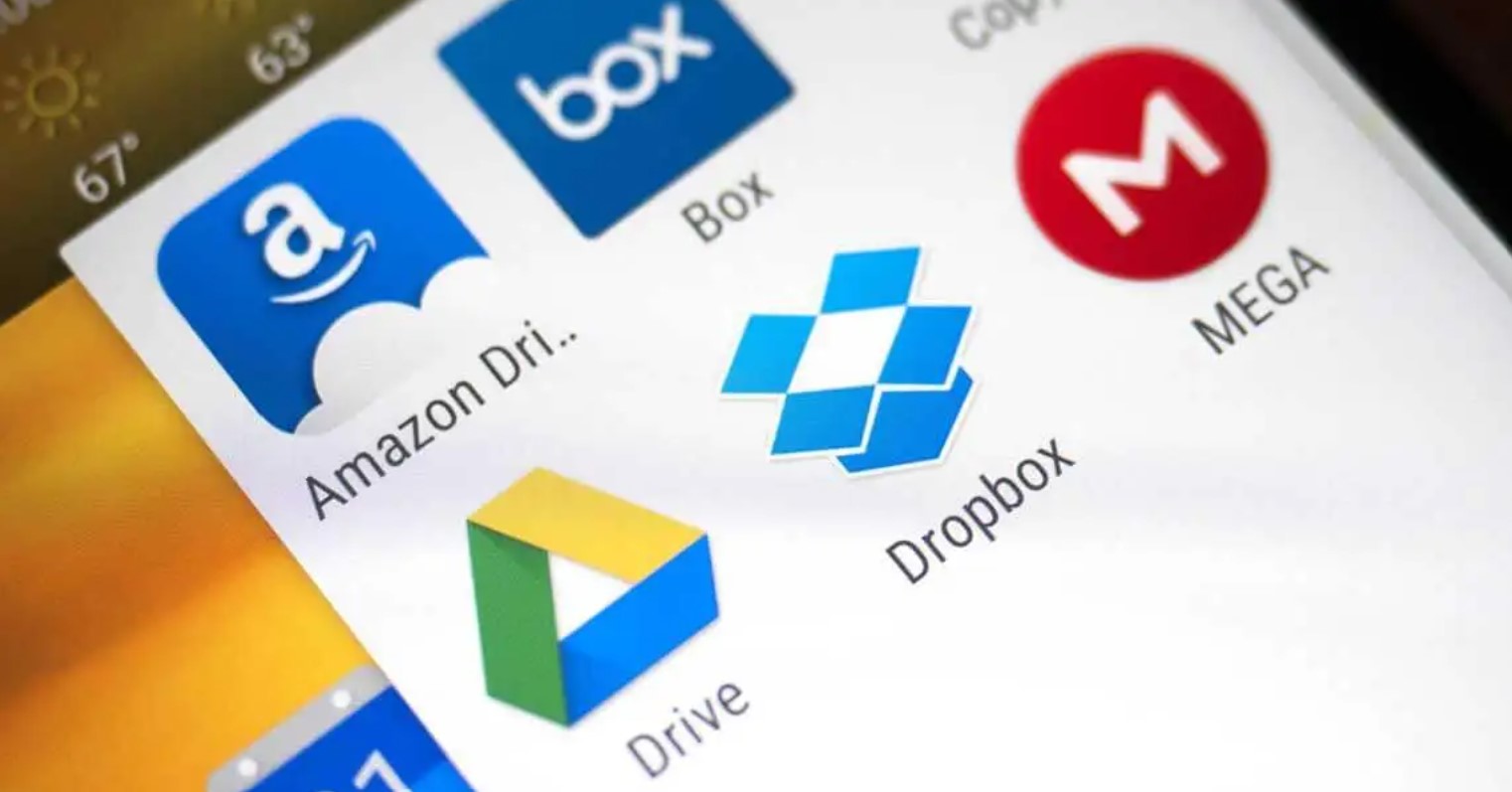 Android users hold the lion's share in the smartphones market, and it is getting bigger. With over a billion active users, as reported by Google, it is evident that the next big thing is here! Android users love experiencing new things, which make complex tasks easier, at the comfort of their fingertips, via taps.
Now, we don't carry hard drives and not even USBs, do we? Of course, NO, because cloud storage has taken over all and thanks to the continuous innovations, it is available on your Android devices as well. Be it your personal documents, pictures, videos, and any other file formats, you can carry all on your Android devices by using awesome Android cloud storage apps. While some providers of cloud storage for Android apps offer extra options for a charge, others are free. In either case, these services are efficient, doesn't consume your storage, and provide a better solution than carrying a hard drive across everywhere. Even the use of SD cards is now considered as the less utilized option, while the use cloud storage on your Android devices has taken the place.
So what are the best Android cloud storage apps to use?

This article was last updated on 25 September 2023
Best Cloud Storage Apps for Android – All in One
If by now, you have made up your mind to avail the services of a cloud storage provider, you are indeed making the right move. However, it is better to act wisely instead of selecting almost any tom, dick and harry from the available cloud storage for Android options. PrivacyCritic assists you significantly in this context with a detailed list of the best Android cloud storage applications. Though, we have 11 great Android cloud storage apps to discuss today, but we are listing best five of them here, and will discuss the other great ones later in the article.
Why moving to Android Cloud Storage is not an option anymore?
We used to rely on paper works back in the days, right? But with the advent of Smartphones technology, things have changed in a quick time, and we have moved toward automation, aren't we? Since we live in fast paced growing society; efficiency and connection matter the most – and we can't rely on traditional exchanges to carry out our work and personal stuff. The shift to Android cloud storage is a MUST now (if you haven't already) since the smart technology allows everyone to stay connected and productive at the same time. Below are some excellent features that come with online storage:
1. No string attached – makes collaboration easy
It definitely helps businesses of all sizes to collaborate and improves efficiency. Whether you have offshore offices and teams, employees can connect with each other and work on the project in real-time. Android cloud storage is efficacious when teams have meetings on the go. With cloud storage on Android devices, once can easily work on the files irrespective of the location and time.
2. Data is always secured on the Cloud
Hard Drives and USBs can crash, even your machines, but not online storage. This is one serious concern for businesses and individuals whether their data can be recovered. With Cloud technology, you don't need to think about it, as all the data is securely hosted in the cloud. It's just taps and clicks aways to download/synchronize on your PCs and devices. Even with cloud storage for Android apps, you only need to open your application and select the file you want to access and use it anywhere.
3. No maintenance required
IT people aren't good, are they? Well, they are nice, but when it comes to technical matters, they become scientists sometimes (just a joke). One of the chief advantages of using online storage as it doesn't demands maintenance. Why? Because the data is secured on private/public/dedicated servers and maintained by the service provider. As a company or individual, you are free from such hassles of running after updates and scheduling maintenance check with the IT guys.
4. Light on pockets
Cloud storage for Android weights lighter than the device you own, but it's a service only. The best part of having Android cloud app is its scalability also, and it doesn't cost much. With a small fee of $10 or even less, you can store large data without even carrying it. Android cloud apps are reliable, scalable and very economical.
So which Android Cloud Storage Apps you should buy?
With so many players in the market, you may end up puzzled with the choices. Since your data is precious, and it is not recommended to try several options before you settle on one only, we are detailing some of the finest cloud storage for Android options to help you choose the right one.
1. Google Drive

Google Drive is one of the key player in data storage market that makes life easier and syncs your archives. It makes the most utilized system apps like archive managers, word processors and PDF readers accessible to you on the go.
Features:
Available for all modern mobile operating systems and PC
Allows you to edit and create documents, read email attachments and share folders with others
Lets you share files and folders via various social media platforms besides its own app
Available at Freemium and Subscription models
Pricing:
15 GB: Free
100 GB: $1.99
1 TB: $9.99
10 TB: $99.99
20 TB: $199.99
30 TB: $299.99
2. Dropbox

Not worthy of any introduction, Dropbox is one of the most well-known cloud storage services for professionals and consumers. It is quite likely that you have already used this service or using at present, isn't it? Here are few of its features just to make you more familiar with this Android cloud storage provider.
Features:
Allows you to flip through photograph albums, alter and share critical archives
Lets you send email attachments
Even if you lose your Android device, your information will be protected in Dropbox
It provides clients 2GB of free cloud storage.
Pricing:
For individuals
Basic: Free
Pro: $9.99 / month
For teams
Business: $15 / user / month
Enterprise: May Contact Service provider
3. OneDrive by Microsoft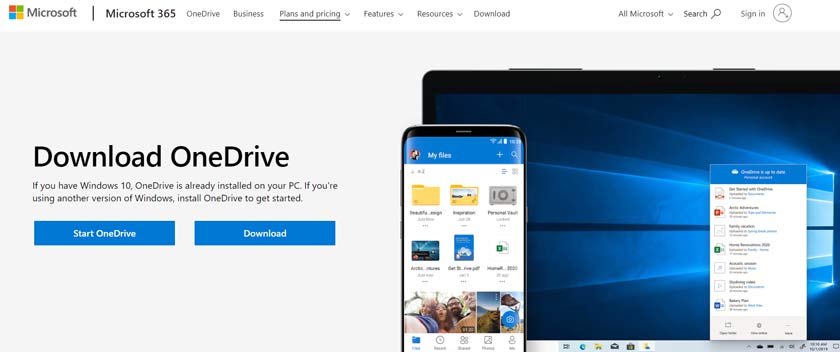 The Android cloud storage app by SkyDrive permits clients to store and access files from any gadget while on the go. The service by Microsoft has rebranded to One Drive with the punch line 'Do more wherever you go'. It is indeed surprising if you are still unaware of it since this Microsoft's creation is now a household name.
Features:
Helps you share records and photographs or view recently utilized reports effortlessly
Lets you collaborate with MS Office through your Android phone
Real-time notifications keep you updated on the activities being done on your documents
Lets you enjoy 7 GB of free cloud storage
Pricing:
Free: 5 GB
Basic: 50 GB for $1.99/ Month
Office 365 Personal: 1 TB for $6.99/month/1user
Office 365 Home: 1 TB for $9.99/month for 5 users
4. Box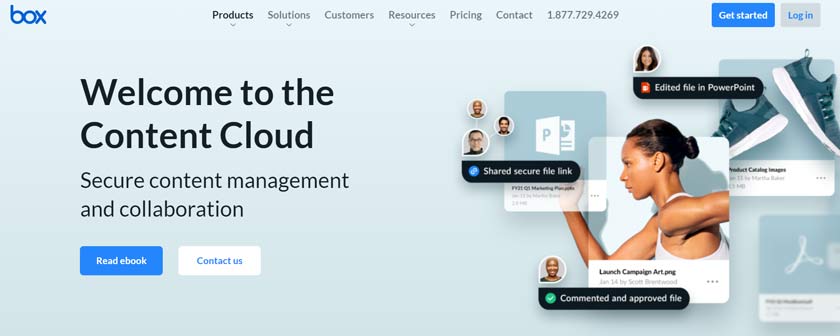 The well-known provider of cloud storage for Android, Box was initiated by Aaron Levine when he was just 19 years old. It was financed by Marc Cuban.
Features:
Suitable for business clients and individuals who need a cloud storage application for data storage
An individual user can sign up to personal accounts beginning at 5GB of free storage
Allows the clients to share files and folders with other Box users and make links share remotely
You can download Box app from the Google Play Store.
Pricing:
Personal Plans
Personal: Free
Personal Pro: $11.50/mo
Business Plans
Starter: $6/mo/user
Business: $17/mo/user
Enterprise: May Contact the service provider
5. SugarSync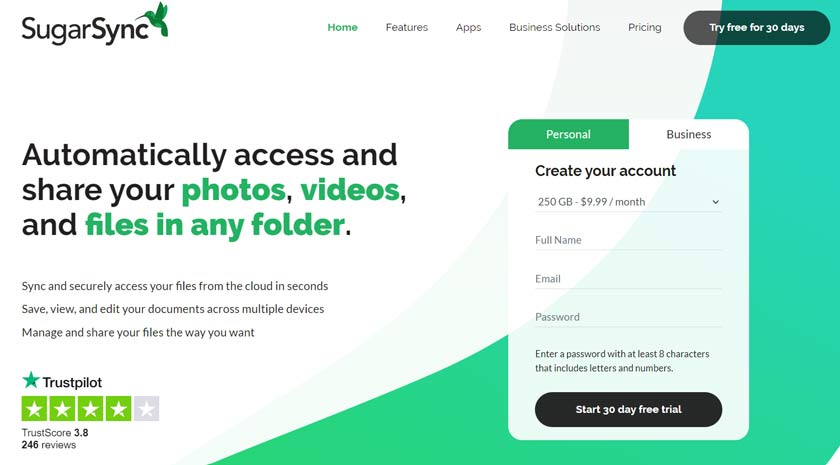 Do you want to get the easiest approach to explore, access and share music, videos, images and documents? SugarSync cloud storage for Android is there to satisfy all such requirements just for you. In short, it makes you more productive while onboard.
Features:
It allows you to sync files and folders between the cloud and your device to view them offline
Lets you share large files and folders through public links
Allow to share folders both publicly and privately as per your convenience.
Free 5 GB plan from SugarSync enables you to try it for 90 days
Pricing:
1st Plan: 100 GB for $7.49 /month/user
2nd Plan: 250 GB for $7.49 /month/user
3rd Plan: 250 GB for $7.49 /month/user
4th Plan: Business plan offers 1000 GB to be shared between 1-9 years at price ranging between $55 to $133/month
5th Plan: Custom business plan suitable for 10+users. Interested may contact service provider for more details
All plans offer a 30-day free trial.
6. pCloud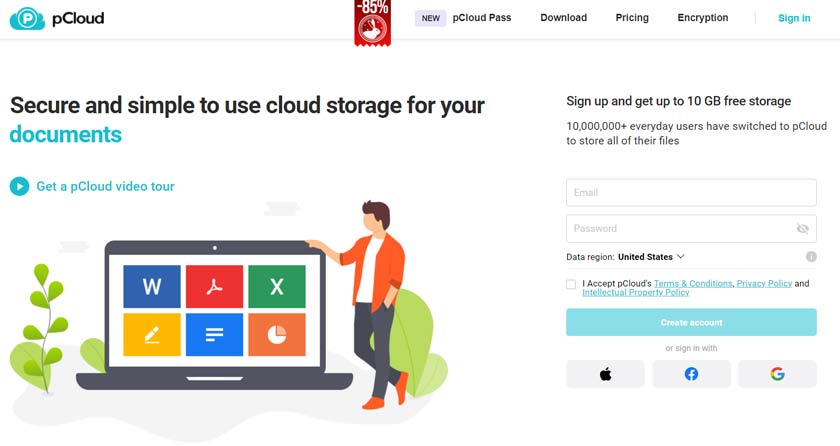 Here is another Android cloud app that will tempt you to install it on your device without giving any second thought. Well, pCloud is a versatile drive that meets your requirement of security, reliability and comfort, all under one umbrella.
Features:
It is intuitive and functions on low-end smartphones as well
It allows you to store and sync up to 20 GB of media, documents, images and applications
The premium plans are budget-friendly and deliver the best-in-class quality
You can explore this Android Cloud app from all well-known platforms and operating systems.
Pricing:
Free: Up to 20 GB
Premium: 500GB storage for $3.99 /month
Premium Plus: 1 TB storage for $7.99/month
Business: Starting from 5 TB storage. Contact service provider for details
7. Cubby
The new Android cloud app by LogMeIn offers a simple and secure way to store your data on the cloud. It is quite affordable as compared to others in the contemporary cloud industry. It allows you to avail a whole lot of facilities through its Basic, Pro, and Enterprise editions.
Features:
Allows the clients to store vital reports, images and movies
Offers the facility for both public and private sharing
Unlimited versioning helps you search for older files
Lets you wipe your stolen devices hence enabling your valuable data from getting compromised
Direct sync allows to sync unlimited folders across multiple computers
Lets you set permissions/access for friends and colleagues
Pricing:
Basic: 5 GB Free
Pro: 100 GB for $3.99/mo/ user
Enterprise: 1 TB for $39.99/mo for 5 users
8. Verizon Cloud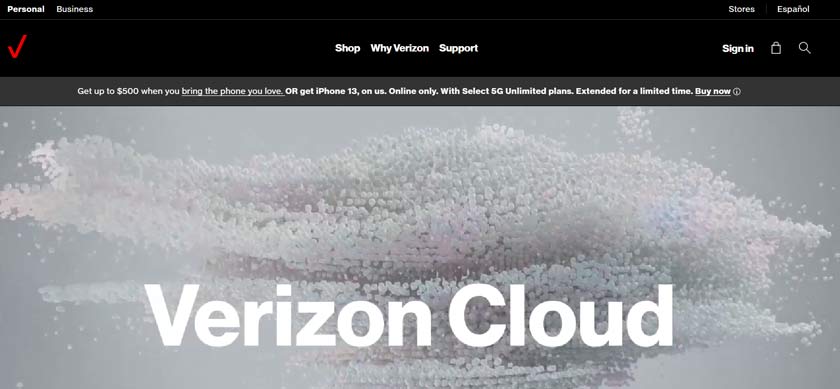 Verizon launched another Dropbox-like Android cloud storage app that allows backup and access their documents in the cloud.
Features:
Clients of this Android cloud app can store music, videos, documents and instant messages
Lets you access content whenever required and share it with your kith & kin
The Android cloud app facilitates users 500 MB of free cloud storage and keeps your content protected and safe.
Pricing:
Single-site storage: $0.04/GB/month
Multiple-site storage: $0.08/GB/month
9. Mediafire
It offers an excellent app for cloud storage for Android with many useful features.
Features:
Allows you store all sorts of digital documents, files and media
Through an active account, you can easily organize, upload and share files across the globe.
Pricing:
Basic: 10 GB Free
Pro: 1 TB for $3.75 / month
Business: Up to 100 TB for $40/month
Android Cloud Apps – Get it Now!
These are just a few of the hundreds perhaps thousands of cloud storage options for your Android devices. We have made a modest attempt to help you single out the most feasible one after shortlisting the most alluring ones. You can compare your singled out cloud storage for Android apps for prices, features, security and reliability and then zero-in on the best one.
Do you still want information before reaching to a conclusion? We at PrivacyCritic are always there to help you out. Feel free to approach us 24×7. We will be there to satisfy your queries regarding Android cloud app to the hilt.