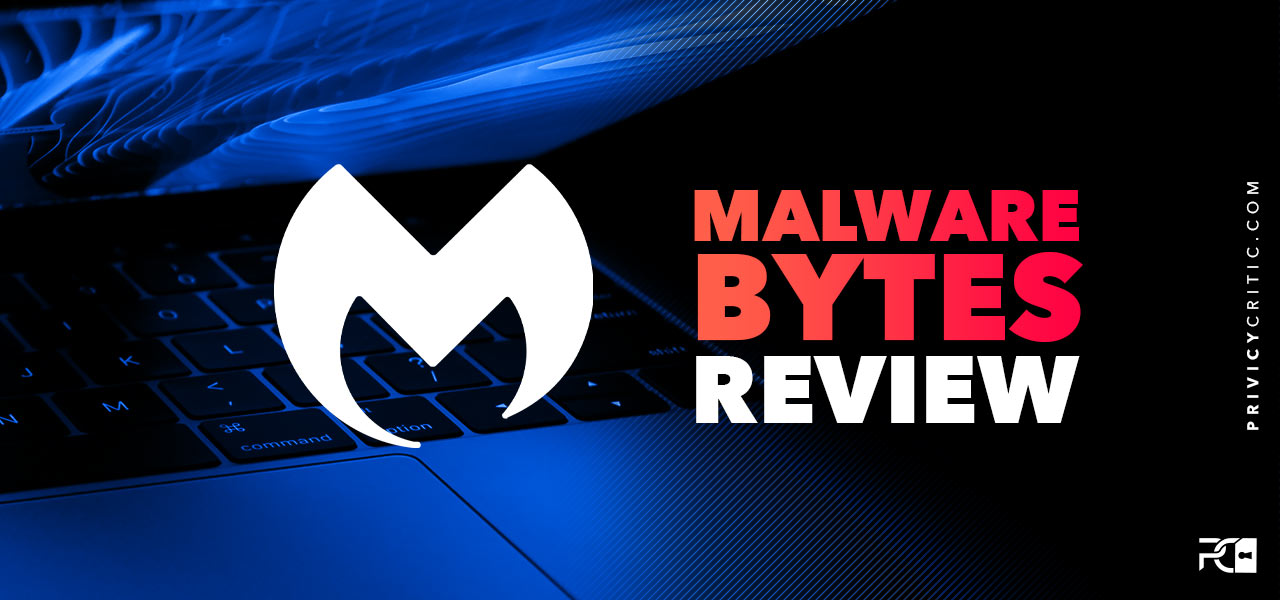 Loved by thousands of users because of its simple, no-nonsense malware scanning and sophisticated interface, Malwarebytes Anti Malware is a free but powerful cyber security tool. In this comprehensive Malwarebytes review, we will highlight its excellent features and drawbacks to help you decide whether it's the perfect malware removal software for you.
Download Malwarebytes
Free Trial + 25% coupon discount
Free Trial and 25% coupon discount in case of upgrade to pro version, exclusive for our readers!
Malwarebytes: Identify malware and clean infected devices
Before it became one of the most used anti-malware tools in the market, Malwarebytes was originally just a software that aimed to catch the newest types of malware that are constantly emerging and have not been identified by other antivirus companies. It wasn't a traditional security software that competed with other tools such as Avast, McAfee, AVG, and others.
Today, Malwarebytes Free Anti Malware Software is now available as a tool that cleans infected devices, from Windows computers, MacBooks, Android phones, and iOS devices. It can detect viruses and spyware that are otherwise overlooked by other free antivirus programs and remove them efficiently. Best of all, it's free of charge.
However, if you're planning on using the free version of Malwarebytes Anti Malware, you shouldn't rely on it as your primary protection because it does have its limitations (which we will discuss later). It works perfectly well with other antivirus programs as an added protection.
Pricing
If you feel convinced to upgrade to Premium after the trial, you can purchase it on their website. A one-year subscription for personal use (covers one device only) costs $39.99. That's within the normal anti-malware software price range and considering the features that Malwarebytes has to offer, we'd say it's a very great deal.
In case you're not satisfied with the Premium features, there's always the 60-day money-back guarantee.
Table Summary
Characteristic
Value
Available Versions

Premium, Premium + Privacy

Multi Login

1-5 devices

Supported Devices

Windows, macOS, Android, iOS, Chrome

Money-Back Guarantee?

60 days

Starts from

39.99 $

(3.33 $ per month)

Free Trial?

yes
Setup and Interface
To download Malwarebytes free, you can go to their website and click the Download Now button. After the download has finished, click the installer and follow the steps in setting up. It won't take more than five minutes to do this.
The great thing about installing the free version is that it comes with a 14-day trial on the Premium version. That means that after installing Malwarebytes, you can experience all the features such as real-time protection, automatic updates, ransomware blocking, and malware prevention. After the allotted 14 days, the trial will expire and it will go back to the free version.
Another thing to take note of is that the free version is only available for Windows computers. If you want to get Malwarebytes for Android, or Malwarebytes for Mac and iOS, you will have to purchase Premium.
We love the intuitive and modern look of the user interface, plus the easy navigation. If you're new to anti-malware tools, then using Malwarebytes won't confuse you since it's very easy to use.
Download Malwarebytes
Free Trial + 25% coupon discount
Free Trial and 25% coupon discount in case of upgrade to pro version, exclusive for our readers!
Dashboard
As you can see, it has a simple interface that gives you a bird's eye view of every functionality. The left sidebar contains five menus: the Dashboard, Scan, Quarantine, Reports, and Settings.
In the Dashboard, it gives you an overall status of your software. In this case, this is a free version so they are prompting us to upgrade to Premium. It also has a Scan Now button at the bottom. On the right side of the Dashboard, the upper box has a list of security features that are not available for the free version. The lower box contains a status update about the last scan.
Scan
If you navigate to the Scan menu below the Dashboard, you have the option of scanning your computer now. If you do, it will start the scanning process and show the seven layers of protection that Malwarebytes uses. Each stage shows a check mark after it is completed.
The seven layers are the following:
Check for Updates
Pre-Scan Operations
Scan Memory
Scan Startup Files
Scan Registry
Scan File System
Heuristics Analysis
Compared to the traditional way of identifying malware through signature-based detection, Malwarebytes uses two methods: the matching-based method during web protection and heuristic analysis, and the signature-less method for application protection, malware detection, and behavior monitoring.
It also displays what files are being scanned, the number of files, the time that has elapsed, and the number of threats that are identified. You can pause or cancel the scan, and schedule a date for the next malware scan.
Quarantine
The Quarantine menu is found below the Scan menu. This is where the quarantined files can be viewed. They don't pose a threat anymore after they are quarantined and will be permanently deleted from your computer once you delete them from the Quarantine folder.
Reports
Every time Malwarebytes scans your computer, it logs the information in the Reports section. It contains the time and date of the scan, the type of protection event that was performed, and if there were any threats found. You can export the data after each scan if you want to.
Settings
In this section, you can configure Malwarebytes'settings. It's divided into six sections, namely the Application, Protection, Scan Schedule, Exclusions, Account Details, and About. You can find the settings here for customizing Malwarebytes according to your preference. Your account details also appear here too, which shows you how much remaining time you have with your Premium trial if you availed.
Security Performance
AV-TEST is a German testing lab that routinely examines cybersecurity tools and scores them based on their ability to detect known malware as well as emerging ones. Malwarebytes, however, doesn't submit their products to be tested by AV-TEST, since they are a company that doesn't aim to compete with the other antivirus brands. Their goal is to discover the new malware types that the other antivirus programs might overlook. Therefore, they aren't scored by AV-TEST.
Despite the lack of data from AV-TEST, it is already stated in the Malwarebytes Anti Malware website that the free version doesn't give you real-time protection against malware; it only cleans a computer that has already been infected.
Even if it's free, though, it can still remove rootkits (malicious programs that allows someone to remotely access your computer without you knowing). But this setting is not turned on by default, so you will have to manually turn it on in the Settings menu, under the section labeled as Protection. After that, there will now be eight layers of protection when you scan, as the Scan for Rootkit layer will appear.
Unfortunately, the Malwarebytes Free version should not be used on its own. It works best as a supplementing anti-malware program that cleans up any hidden malicious files that your primary antivirus tool has failed to detect.
System Impact
As with all security software, running a scan will definitely affect your computer's performance. Malwarebytes is a pretty much lightweight software and did not slow down our computer most of the time. We tested it in a Dell Inspiron 5567 with an Intel Core i3 7th Generation and 4GB RAM.
We ran a full scan without doing anything else on the computer. It worked smoothly and the full scan lasted for only 8 minutes.
Next, we scanned the computer again while opening the browser and surfing the internet. It slowed down at times when we had to open new apps, especially graphics-heavy ones.
Overall, Malwarebytes won't interfere with your productivity if you run it in the background while you use your computer. To prevent slowing down, perhaps leave the activities that eat up lots of RAM for later while you perform the scan.
Premium Trial
As we have mentioned earlier, Malwarebytes Anti Malware comes with a 14-day Premium trial upon downloading the free version. Once you install the software, the Premium trial version will be set up by default and you'll be able to use it immediately.
With the Premium version, you can use Malwarebytes for Mac, Android, and iOS. So for 14 days, you can extend your malware protection to other devices that you also use. However, if you want to stop your Premium trial and go back to the free version before the allotted 14 days is over, you can go to the Settings menu, select Account Details, and click the button on the lower right corner that says Deactivate Premium Trial.
In this Malwarebytes review, we'll also give you a heads-up on the Premium trial version and what features you can get with the paid suite.
Real-Time Protection
Compared to the free version, the Premium trial uses four real-time protection layers. It automatically blocks malware as soon as they try to infect your computer (whereas the free version only removes malware that is already in your computer), stops ransomware from locking your files and rendering it useless, protects you from harmful websites while surfing the internet, and detects spyware before it tries to harvest your personal data.
In the dashboard, you can see in the right sidebar that these Real-Time Protection features are turned on, but in the free version the toggle is turned off.
Notifications
The Premium trial also notifies you about malware detections so you'll instantly know when you're being attacked. You receive notifications once the malware has been blocked, if the websites you're trying to visit are being blocked and the reason why, if your software is updated with the latest version, and if it's time to renew your license.
Scanning
The Hyper Scan mode is a feature that targets active threats for faster and smarter scanning. And because Malwarebytes prides itself on being the company that identifies new malware that nobody has heard before, they are able to disinfect your computer more efficiently. Best of all, the Premium version can replace your primary antivirus software.
Overall
To wrap up this Malwarebytes review, here are the things that we loved about this free anti-malware tool:
Sophisticated methods in malware, ransomware, adware, and spyware protection
Premium trial with the full internet security suite
Cleans an infected computer down to the very last file
Does not slow down the computer while scanning most of the time
We highly recommend Malwarebytes as an added protection for your computer. It's fast, smart, and best of all, it's free of charge.
Malwarebytes review 2021: Excellent
PROS
Easy to install and has a simple user interface
Lightweight and won't slow down your system while scanning
Seamlessly works with other antivirus tools
Effectively removes malware, adware, spyware, ransomware, and viruses
CONS
The free version has no real-time malware scanning and is available for Windows only
Doesn't scan email attachments, downloaded apps, and websites
Not recommended as a primary anti-malware tool