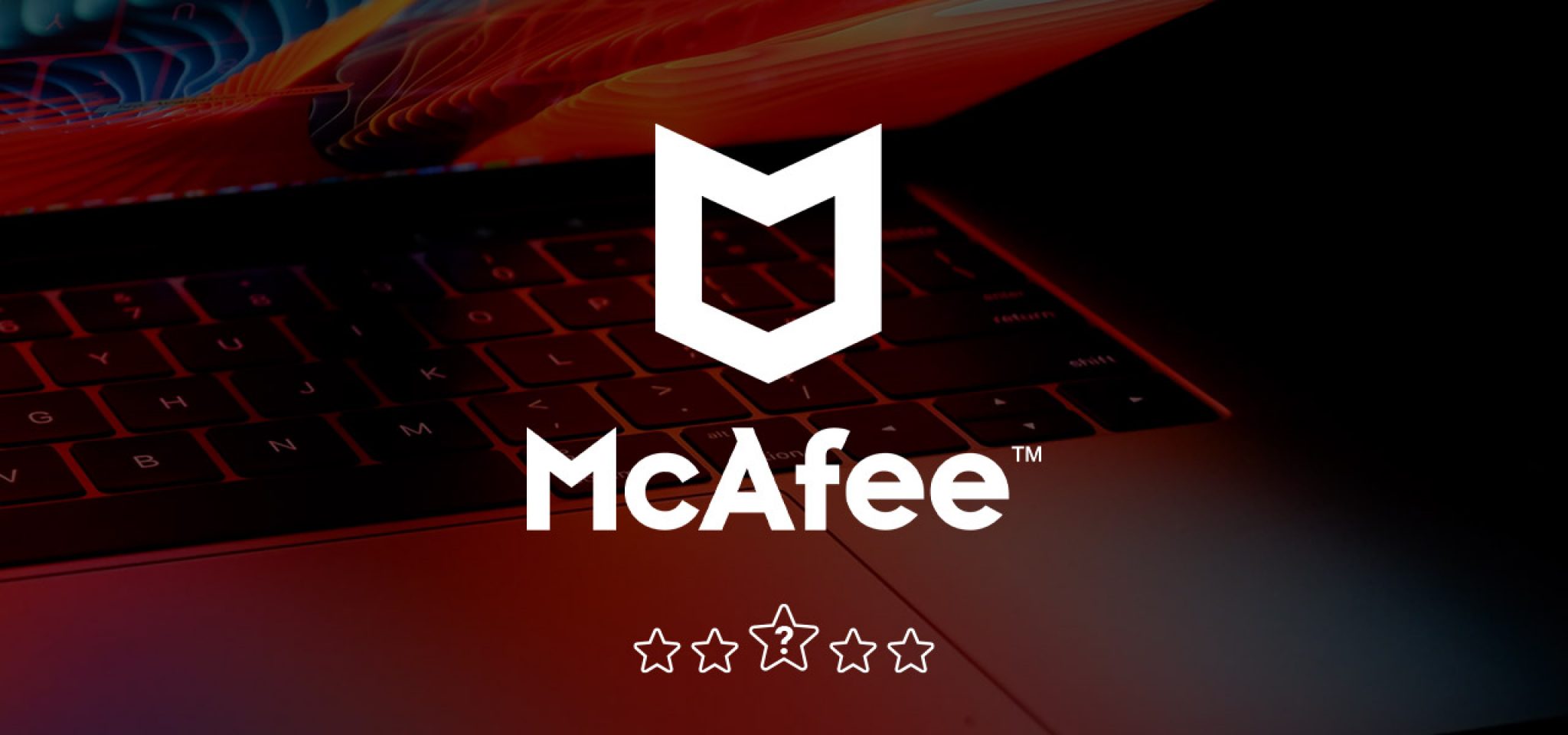 McAfee is one of the consumer antivirus software products that includes an identity theft protection and full VPN service into their affordable plans. The company, created in 1987, is based in San Jose, California and employs over 7000 people by proving protection to all sorts of customers, small, midsize and large companies. Over the course of this McAfee review, we will discover; what is McAfee, the history of the company, its products, prices of said products and how they stack up compared to those of competitors.
TRY NOW
EXCLUSIVE COUPON DISCOUNT FOR OUR READERS
Try McAfee NOW and get 80% OFF.
Overview
Our McAfee reviews helped us discover that the company was created in 1987. Then it was known as McAfee Associated, named so for John McAfee, its founder that resigned from the organisation in 1994. The company was incorporated in Delaware in 1992 and the next year saw McAfee step down as its head, taking the role of chief technology officer before resigning in 1994.
Bill Larson became CEO in McAfee's place and in 1997 Network Associates was created as a result of a merger between McAfee Associates, PGP Corporation, Helix Software and Network General. 1996 saw McAfee acquired FSA Corporation and that helped the organisation diversity its security offerings from simply client-based antivirus software to a product that offered its own desktop and network encryption technologies. 
The FSA team was responsible for the creation of leading-edge technologies such as file encryption, public key infrastructure and firewall product lines. While these products were successful, it was the growth of antivirus products that became what the company was known for. It can be said that McAfee is best known for its anti-spam and antivirus products.
Another company that was purchased and then sold by McAfee was Trusted Information Systems. This company created the Firewall Toolkit, which was the foundation of the commercially available Gauntlet Firewall. As a result of its brief ownership of Network Associates Laboratories, McAfee Research, NAI Labs, and TIS Labs, McAfee was extremely influential in the open-source world, producing portions of the FreeBSD, Darwin and Linux operating systems. The company was also responsible for developing portions of the BIND name server software and SNMP version 3.
McAfee antivirus reviews: Pricing
At this moment, McAfee doesn't have a free antivirus program, however, users can try out its product McAfee Total Protection for 30 days without any charge.
McAfee AntiVirus
This McAfee antivirus reviews product range begins with McAfee Anti-Virus and this product covers one Windows PC. It costs $47.87 (£34.99) annually for the first year for a single device. After that it costs $84.99 (£59.99) per year. It comes with a file shredder, dedicated ransomware protection, 2 way firewall, system optimiser and browser extensions for Firefox, Edge and Chrome. These extensions warn users of unsafe websites, risky social media links and tech support scams.
McAfee AntiVirus Plus
The McAfee AntiVirus Plus comes with the same features as the product above, however, it covers 5 devices for just $54.71 (£39.99) annually for the first year with the price going up to $104.99 (£79.99). This coverage also includes software from other operating systems such as Android, iOS and Mac.
McAfee AntiVirus Total Protection Pro & Ultimate
The Total Protection Pro and Ultimate are McAfee's flagship programs, and this McAfee review will show that while they might seem similar, the number of devices they can power is the major difference between them. The two programs come with identity-theft protection (only for customers in the US), Safe Family Parental controls and unlimited VPN software. In order to access the identity theft protection and unlimited VPN from McAfee, users will have to ensure their auto-renewal is active. The Safe Family Parental controls and VPN software are not available on the Mac offering of McAfee.
Total Protection Pro or total McAfee virus protection provides a subscription to 10 devices for just $61.55 (£44.99) for the first year then $124.99 (£89.99) thereafter. It protects 10 devices meaning your tablet, android device and computers are all protected. It comes with all the features from other Total Protection tiers as well as the identity-theft protection and file encryption features.
The highest tier is no doubt the Total Protection Ultimate subscription which costs $160 per year. The product includes Identity Theft Protection Plus feature, which includes up to $1 million for identity restoration and credit-bureau monitoring. When you consider that the most effective identity-theft protection services tend to cost hundreds if not thousands of dollars annually, this isn't a bad deal.
The Total Protection Ultimate product provides VPN access for 5 users but has coverage for as many devices as possible. The most cost-effective product users with various devices should go for is the Total protection Ultimate in this McAfee review considering you can use it with as many devices as possible. You should note that there might be an upper-tier to this "unlimited" limit. This costs $69.99 for the first year, $159.99 annually thereafter.
Users can subscribe additional McAfee protections:
Safe Family which provides parental controls, search and website filtering can purchase for $50 a year or $8 per month.
Safe Connect VPN which ensures safe banking and eCommerce activity can be purchased for $8 per month or $48 per year.
Mobile Security which comes with various levels of Android antivirus McAfee, as well as other tools such as battery and storage optimisations. It starts off free, but the standard tier can be purchased for $30 per year, while the plus can be purchased for $80 per year.
Techmasters Concierge provides users with expert help in handling malware and viruses as well as software installation, configuration and issues with operating systems. The Gold service for one computer be it Mac or PC as well as 4 connected devices costs $180. The Platinum service costs $210 for 2 Macs or PCs and 4 connected devices,
The Virus Removal Service can be used to deal with sole Windows-based malware incidents for $90 per incident.
Table Summary
Characteristic
Value
Available Versions

Single, Individual, Family

Multi Login

1-10 devices

Supported Devices

Windows, macOS, Android, iOS, Firefox, Chrome, Safari, Edge

Money-Back Guarantee?

30 days

Starts from

34.95 $

(2.91 $ per month)

Free Trial?

No
McAfee antivirus reviews: Security
McAfee software is capable of working on Windows 7 to Windows 10. It can also function on MacOS 10.12 all the way to 10.15, as well as on Android Jelly Bean or later. While there is a mobile security app for iPhone, it cannot be defined as an antivirus app.
Every product in the McAfee Antivirus line-up can utilise cloud computing as well as machine learning to scan for known malware and discover new malware. The updates for the malware scanner are updated on a daily basis.
In order to ensure the malware database is kept current, McAfee malware scanner on your computer sends out new prospective threats to McAfee servers. Data is collected only when a threat is detected. Information such as your passwords, browsing history and any other bit of private information is ignored.
The Ransom Guard also searches for any suspicious file changes while making copies of those targeted files should a ransomware attack be suspected. McAfee's Advanced Malware Detection can hasten not only the detection but distribution of a defence to the organisation's user base.
McAfee antivirus reviews: Performance
The detection rates of McAfee's product suite are generally a bit behind those of other brands such as Norton, Kaspersky and Bitdefender. Nevertheless, they are improving. Tests were conducted by independent labs in 2020 and the results showed that McAfee's scanner was able to find all widespread or known malware samples in the test.
McAfee has updated its interface making it a lot more efficient than previous iterations. It has done this by consolidating its PC defences such as Antivirus, Secure Apps, App Boost and Firewall, Web defences such as Tracker Remover, Web Boost, Secure VPN and Browser Security, and Password Manager, File Lock encryption and File Shredder into one suite.
Various McAfee reviews discovered that with this interface, there isn't a view where users can appraise their general security status, however, each section comes with its own snapshot of useful information. The setting comes with a plethora of options, so many that only a quarter of them are visible at a time.
The entire software suite has been ranked as safe with no negative influence on system performance or speed. The McAfee reviews highlighted that the ID theft protection bundled with the program comes with dark web monitoring and warning. Users can also have Social Security Number Trac to alert them of potential identity theft or fraud. The bundled ID theft coverage doesn't include loss and recovery, neither does it come with reimbursement or credit reporting bureau monitoring.
Users that want extensive ID theft coverage, the McAfee Identity Theft Protection separately. In order to access the ID theft protection and VPN service, users are required by McAfee to activate the automatic renewal of their subscription. The active automatic subscription renewal provides users access to McAfee's Virus Protection Pledge, which is a 100% guarantee that should the software fail to remove the detected malware, company experts will remove it or provide a full refund on the purchase price.
McAfee antivirus reviews: Usability
Every one of the products can handle the protection basics sufficiently well, however, they tend to lack the numerous features those other products have. Usability is easy with the Identity tab on the interface consolidating the program's privacy features which include Tracker Remover, password manager and file shredder. It also includes a data shredder with 3 erasure levels to get rid of any embarrassing or inconvenient files.
Vulnerability Management searches for weak passwords, old firmware as well as other prospective flaws in your system software and apps. Users also get anti-phishing protection as well as a two-way firewall to replace the one proffered by Microsoft.
McAfee Antivirus Reviews: Compatibility
McAfee has product lines that work for almost every operating system, however, our McAfee reviews show that the most all-around product package has to be McAfee Total Protection, as it can work for Windows, iOS, Android and Mac OS devices. In addition to that, there are browser extensions as stated earlier for Edge, Chrome, Firefox and Safari, enabling users to activate browser protection.
Installation & Customer Service
Let's continue this McAfee reviews by discussing the installation process. When users install McAfee Total Protection, the journey first begins with a trip to a third party retailer or McAfee's website. An activation code or credit card information will have to be entered before users can create an account on McAfee.
The autorenewal policy on McAfee means that users are automatically set to pay for the next subscription once the current one elapses. This can be changed once the software is installed, however, doing so would mean users forfeit the use of the Identity theft protection and VPN features.
Over the course of our McAfee reviews, we discovered that the installer is just 41.2MB, however, the rest of the necessary files are downloaded during the installation process. Once the installation is done, users are then transported to the dashboard, where a scan can be run.
When it comes to tech support, McAfee's customer service effectively communicates via Facebook and Twitter, however, it doesn't reply to emails. There is a 24/7 live chat feature, a deep FAQ library and 24/7 phone access.
There is a money-back guarantee if McAfee is unable to clean your system, however, this is only possible if you do not turn your auto-renewal subscription off. To know if is McAfee good, here are some pros and cons.
Pros of McAfee antivirus reviews
VPN service is available
All versions of the software support Windows, iOS, Android and macOS
Virus Protection Pledge has a malware removal money-back guarantee
McAfee Shredder gets rid of all erased files traces
Cons of McAfee antivirus reviews
Full identity theft protection is only available on Pro and Ultimate subscription
Identity theft and VPN only comes with auto-renewal
Malware detection wasn't 100% in McAfee reviews
Conclusion
Is McAfee a scam? From the entry-level McAfee Antivirus program to Internet Security, LiveSafe and Total Protection, this McAfee reviews has shown that McAfee's services and software are suitable for users that are security conscious yet searching for a bargain when providing coverage of various devices using one license.
One thing that prospective users need to be aware of is the fact that there is no dedicated webcam hijacking defence. Neither is there a hardened browser suited for eCommerce. Additionally, other brands are better able to detect malware.
Some users won't pleased with the fact that they are unable to utilise the identity theft protection and VPN service without committing to automatic subscription renewals.
Overall, this McAfee Antivirus reviews or McAfee reviews show that its protection is adequate for most people, however, programs from competitors provide more efficient malware detection and complete coverage.
McAfee Antivirus Review 2023
PROS
VPN service is included in every pricing tier
All versions of the software support Windows, iOS, android and macOS
Virus Protection Pledge has a malware removal money-back guarantee
McAfee Shredder gets rid of all erased files traces
CONS
Full identity theft protection is only available with additional subscription
Identity theft and VPN only comes with auto-renewal
Malware detection wasn't 100% in McAfee reviews