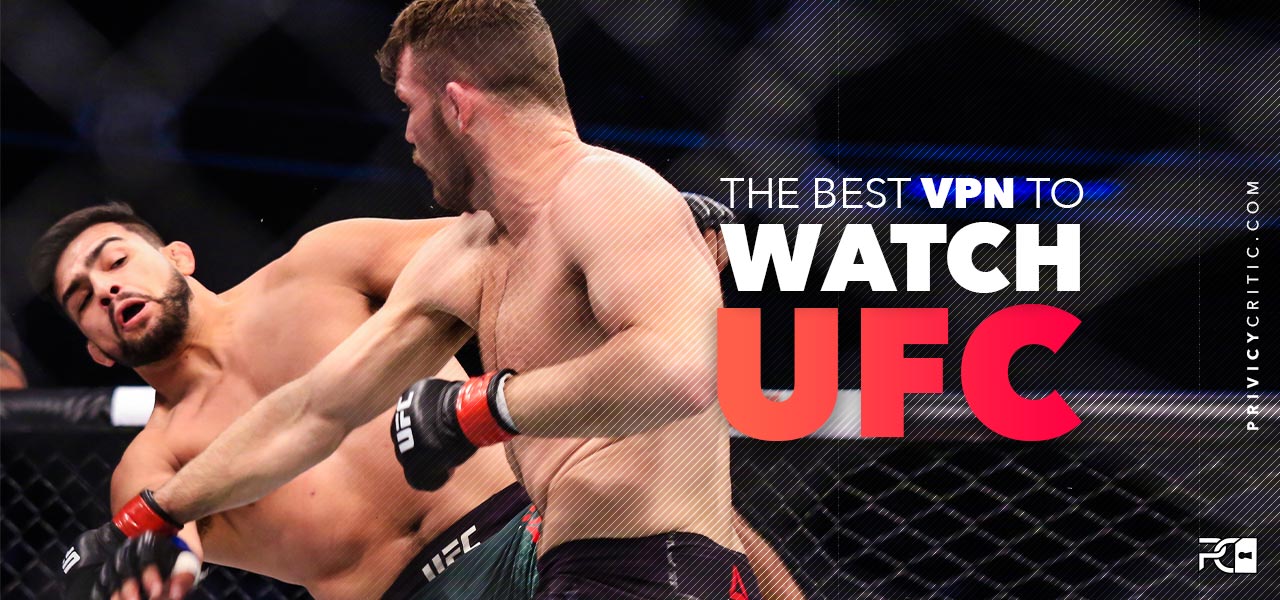 There's nothing like watching fight night on UFC live to get that adrenaline rush you need. But what if you're travelling out of the country? All streaming sites automatically block you once they detect your IP address is located outside the United States. So if you're outside the US, where to watch a decent UFC online stream? The best VPN figures into this scenario – and I'll tell you how.
Coming up fight
Please save the date

26/06/2021

to watch

UFC Fight Night - GANE VS VOLKOV

online via VPN matchup between

Ciryl Gane VS Alexander Volkov

in

Las Vegas, USA
Is it possible to watch UFC online outside the US?
It's thrilling to watch professional mixed martial artists like Tyson Nam or Zarrukh Adashev battle it out in the Octagon. To be on top of UFC action, you can go for either live streaming or pay-per-view. If you're abroad, you're cut off access to UFC streaming sites since they're geo-restricted in the US. So long as the streaming service identifies that you're watching outside of the US, you're blocked. The best way around this virtual roadblock is a VPN.
A VPN can change your IP address and make it seem that you're actually in America. Therefore, the streaming service is "hoodwinked" into granting you access to the streaming sites that are broadcasting UFC matches live. A word of caution: not all VPNs are able to achieve this unblocking capability. Only the best VPNs will allow you to watch UFC live streams, sans the annoying buffering and waiting.
Try ExpressVPN Now
30-day money-back guarantee
Where to Watch UFC Live?
A cut-the-cord trend is underway when it comes to this entertainment. Therefore, instead of cable, you can watch fight night using streaming packages on several ESPN-bundled channels. UFC streaming is accessible through ESPN+, Hulu, SlingTV, YouTube TV and AT&T Now.
For people on the go, UFC live streaming is now possible using your Android- or iOS-powered mobile devices.  You can also stream effortlessly using your Chromecast, FireTV, and Apple TV devices.
When you're out of the US, the best VPN can give you crystal clear and crisp images of submissions and flying knee knockouts in live UFC matches without frozen screens or buffering.  Also, it's also great value for your money. Compared to purchasing tickets to watch the fight, live streaming UFC via VPN can save you a lot of dough.
What is the best VPN to watch UFC online?
The best VPNs will allow you to watch UFC live online streams as if you've purchased tickets. This way, you keep on rooting for Jessica Eye in her bid to become the #1 female UFC striker. In addition, you can stream anonymously without worrying about being monitored or tracked by criminal elements or spy agencies.
What are some of the best VPNs in the biz today? Here's a list.
ExpressVPN is on top of our list and perhaps the most secure VPN. With its vast number of server locations, you can stream UFC online live without any interruptions. Privacy-wise, it has a rock-solid encryption protocol using 256 AES military-grade technology. Its zero-log policy guarantees that no digital footprint from you is ever documented.
Tipping its hat to consumer protection, ExpressVPN offers a 30-day money-back guarantee.
Can I use a free VPN to watch UFC online?
Some VPNs are offering free passes to watch UFC live streams, but don't be tempted. Free VPNs can be dangerous. They're teeming with privacy issues. Since these services are free, they can make money by selling your private information to third parties and advertisers.
Also, who wants a lot of ads popping out during a match takedown? Since many people are lining up to stream UFC online for free, expect a lot of buffering, lagging, and even blackouts. The number of servers is far less than the number of people wanting to gain access to the free service.
Try ExpressVPN Now
30-day money-back guarantee
How to use a VPN to watch UFC
First off, you have to download the VPN. Install it on your device and launch it. Choose one server located in the US and connect to it.
Once you are connected to the server, it'll give you options on the streaming sites that broadcast UFC fight night.  Just input your login details and that's it.
Coming up UFC live
A heavyweight matchup between Ciryl Gane VS Alexander Volkov on 26/06/2021, UFC Fight Night - GANE VS VOLKOV in Las Vegas, USA
Be ready on Sunday night 11/07/2021 and don't forget to watch UFC 264 - POIRIER VS MCGREGOR the matchup between Dustin Poirier VS Conor McGregor in Las Vegas, USA
Don't miss the final match of UFC Fight Night - HOLLOWAY VS RODRIGUEZ the flyweight match between Max Holloway VS Yair Rodríguez  take a place on 18/07/2021 in Las Vegas, USA
Conclusion
To wrap up, UFC matches live streaming are automatically blocked once your IP address is outside the country. But with the best VPN – ExpressVPN – you never have to miss a UFC fight night stream ever again.