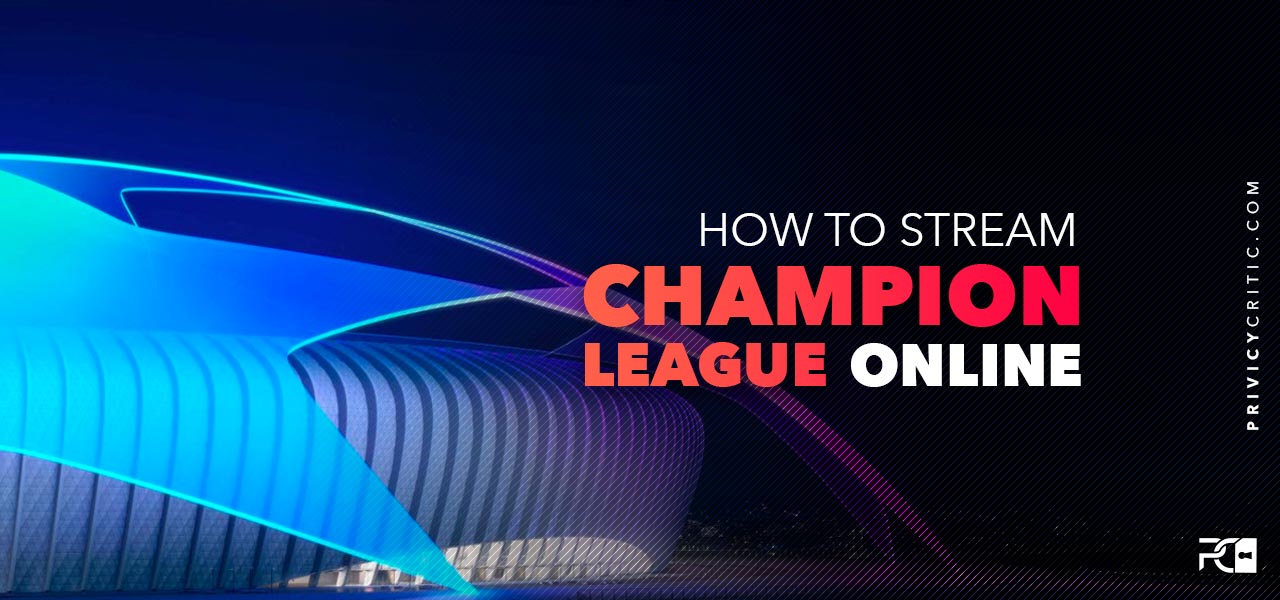 Another exciting football season is upon us. If you're a major football fan, then you've probably already made all sorts of plans with your friends for catching the league games. But what does it mean for those who won't be staying in the country? Of course, there is still a way for you to watch the Champions League stream regardless of your location. In this article, I'll be teaching you a neat little trick you can use to watch it anytime, anywhere.
Try ExpressVPN Now
Here's the best VPN for you: ExpressVPN
This provider offers great speeds for unlimited streaming, torrenting and gaming. Try it today, risk-free, for 30 days and get 3 months FREE.
Why can't I watch Champions League online?
If you've already tried to access your streaming provider abroad, you'll notice that you'll be blocked from the website. You'll be left questioning yourself as to why they blocked you even when you've already subscribed to them.
The answer is plain and simple: television rights. Depending on which provider you use, you can only access it within the country you usually watch it in. If you try using your sports channel subscription, you can only access it within your area but not abroad.
But let's not point fingers and play the blame game here. Of course, these streaming services would love to reach as many viewers as possible. But because of television rights, that just isn't possible at the moment.
Where to Watch Champions League
So now you're here because you want to know a way to watch the Champions League final live stream in good quality with your subscription. If you follow the method below, you'll be able to do so with ease.
Or, you could always settle for a bad quality stream on some shady site that pops up in your Google search.
BT Sports

This is where all my Brit friends say they get to watch the Champions League final stream. BT Sport is actually a very popular TV channel which should be available on most cable boxes. And some of the games are broadcasted free-to-air!

If you're not going to be in the UK, you can still catch the Champions League live stream with your VPN. You simply need to connect to a UK server and you can start watching right away!

B/R Live and Sling TV

These are where to watch Champions League final for people who away from home. You've probably heard of Bleacher Report Live before. They cover almost all sports events including football. Fubo TV and Sling TV are also both good over-the-top internet television services.

Fubo TV

If you already have subscriptions to these providers, then great. You can open it anytime as long as you're in the States. But even if you're not in the country, you can still access your subscription with your VPN. All you need to do is select a US server, and you're good to go!

DAZN

It covers the UK, of course, and the countries of Austria, Germany, Japan, Canada and USA.  DAZN is another streaming service that you're going to need a subscription to. Once you have that, you can still access it even though you're in different countries.

When you open up your VPN, you simply need to connect to a server in any of the countries that it's available in!

Optus Sport

This is actually a huge telecommunication company in Australia. It offers everything from mobile phone plans, broadband, prepaid, and entertainment services (including sports). You can watch Optus Sport on TV since it is also a huge sports channel, or you can watch the game on the go with their app!

Simply connect to an Australian server with your VPN and you're all set to watch Champions League!
Others
Other tuner broadcastings for live streaming the UEFA Europa League include beIN Sports, Turner Sports, and Sky Sports. Or, you can stick to catching up with the highlights on B/R Football YouTube channel.
How to watch the Champions League stream?
As we all know, all the good TV broadcasters will be covering the entirety of the UEFA Champions League live stream. Millions of fans all over the world will have their eyes glued to their screens just to catch a glimpse of the action.
So you've got your subscription for the needed streaming service. If you're staying within the country, then you're good to go. But what if you have to go abroad for work or holiday? Does that mean you can't watch the game at all? If you don't do anything about it, then you'll definitely be stuck with nothing. But keep on reading, and I'll teach you how to watch Champions League final anywhere.
Tutorial for the Champions League live stream:
If you already know where to watch Champions League, you probably still have no clue where to start. Well, don't worry because I've got you covered. Just follow this tutorial and you should be good to go!
Pick out a VPN provider from the list below (my personal favourite is ExpressVPN).
Press on the button to go to the official website.
Create an account, pick a payment plan and subscribe.
Download, install and launch the VPN on your device.
Select the server location of where you want to appear to be.

UK for BT Sport
USA for B/R Live, DAZN, Sling TV, and Fubo TV
Australia for Optus Sport
Austria, Germany, Japan, or Canada for DAZN Europe

Press the "connect" button.
Go to the streaming site and start watching!
Get a premium VPN – free of charge!
If you really need a free VPN, then I recommend ExpressVPN. Although it also comes with the option of subscribing, you can get it for free for a limited amount of time with their money-back guarantee.
You have nothing to worry about because I've actually tried it myself and it works perfectly.
Just subscribe to their service and use their premium services until the time limit is almost up. Then, just call up their friendly customer service to say that you want to cancel your subscription and get a refund. They will happily do this with no questions asked. The customer service representatives won't pry into your reasons and simply cater to your request without bothering you.
So, if you're only going out of the country for a short while, you can try out this trick. And, to make sure you really don't spend a dime, you should use the UK's BT Sport since it doesn't require a subscription as long as you have a Skybox!
Try ExpressVPN Now
30-day money-back guarantee
The Perfect Tool for Champions League stream
The whole point here is to be able to use your subscription even when abroad. This is so that you get only the best quality and even comments from the experts themselves.
A VPN or Virtual Private Network can do that for you. You see, the reason why you're blocked whenever you try accessing your subscription out of the country is because of a thing called geo-restriction. This is when the website's servers cross-reference your IP address to their list to see if you are within bounds. And if you aren't it'll automatically block you from the site or app.
The VPN service can bypass this by giving you another IP address. No, you don't have to move physically. All you have to do is select one of their servers that are located within the country you need to access and it'll seem like you're there too!
Here are my top recommendations for watching the Champions League live stream. I have tried out all these providers so rest assured, they are only the best of the best.
If you're curious, I based it on these 3 criteria:
Experience – Some perform better than others.
Speed – Important for watching the Champions League stream.
VPN gets blocked – Either rarely happens, or happens more than usual.
You can choose any of the providers above because they are all guaranteed to grant you access to the Champions League live stream.
Is it expensive? Can I get a free VPN provider?
No good thing comes for free. But don't worry, all the top providers aren't that expensive, to begin with. Prices can range from $5-$12 depending on which plan you avail of.
And don't be fooled with those free VPNs claiming to be the best. They're really only trying to get your personal information so that they can sell it to advertising companies. And, even if you're okay with that, you can't really do much with them because of their very limited data cap. Some only allow their clients to use up as little as 500 MB per month. This is nowhere near enough to watch the Champions League stream.
That's Not All
You're probably thinking "why should I waste money just to be able to watch the Champions League stream once?" Well, if you think that the only thing a VPN is good for is bypassing geo-restrictions, you are gravely mistaken.
Did you know that even when you're simply browsing the internet, you leave traces of yourself that make you vulnerable to all kinds of threats? A VPN can protect you from this because it heavily encrypts all your data. This means that nobody will be able to see what you're doing and your identity is completely protected.
Conclusion
That's how you can get the Champions League live stream from anywhere in the world! A VPN is definitely the easiest and safest way of getting to see Manchester United and Real Madrid in action. Not only is it going to be in HD, but it's also constantly protecting you from external threats. Discover the full schedule here and don't miss a single game!
By top recommendation would definitely have to be ExpressVPN. This is my tried and true and it's actually quite famous in the VPN world for being one of the safest VPN services. They have a lot of unique security features that the other providers just can't beat.