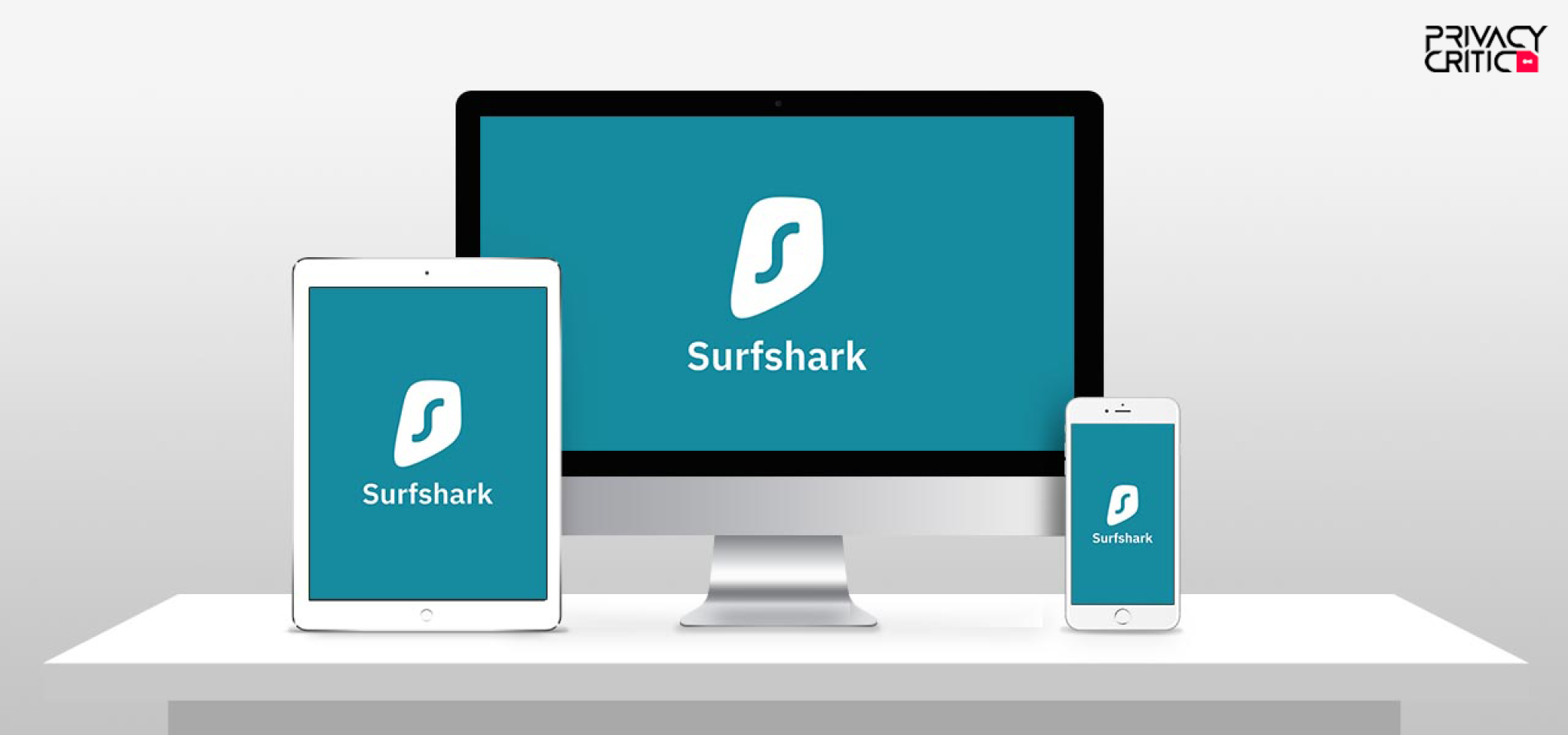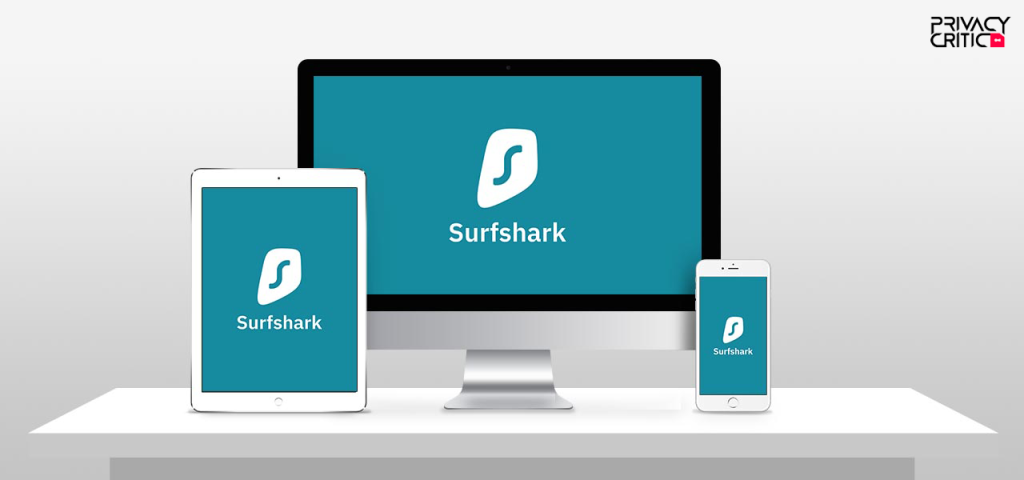 Are you looking for a SurfShark review? Most people online will know that it's easy to track who and where you are, and censorship can annoy you. But you will also know that a VPN can solve this issue for you. However, your next issue is what VPN to use. Here is a Surf Shark review that will help you figure out if you want to use this VPN or another. To give a customer's point of view, I have tried and tested this SurfShark VPN to provide you with a better review than other Surf Shark VPN reviews.
Here's what will be included in the Surf Shark reviews; an overview of the company, plans and prices, using the VPN, the VPN features, Windows client, application compatibility, test results, customer service, comparisons, and a few FAQs to finish it off. Hopefully, this will be able to answer your questions that other SurfShark reviews couldn't.
GET SURFSHARK NOW
Exclusive coupon deal for our readers
Try SurfShark care-free with their 30-day money-back guarantee. Get 83% off VPN deal + 3 months FREE with our exclusive discount.
This article was last updated on 27 September 2023
Company overview
Firstly in this Surf Shark review, let's discuss the company and its products. Based in the Netherlands, this VPN was initially released in 2018—making it a relatively new VPN in the large market. Its mission is to allow people to have complete control of their digital lives. And they try to make digital security accessible to all. In the same year of release, they had their first independent audit done by Cure53. In 2019, they launched SurfShark Alert and Search, and a free app called Trust DNS. They also have an antivirus. Come 2020; they release 2-factor authentication to improve security. They also became a founding member of the VPN trust initiative, which NordVPN are also part of. Lastly, they moved to a 100% RAM only server network.
Plans and prices
Next, in this Surf Shark review, we will discuss the plans and prices they have to offer. As per usual, there are three plans available to choose from. A one-month plan, a six-month plan and a twenty four-month plan.
The one-month plan will cost you 10.56 GBP a month, a little pricier than other VPNs, however not by much. This plan includes a 30-day money-back guarantee.
The 12-month plan will cost you 39.03 GBP for a year. Monthly it would cost you 4.78 GBP, which is half of what the monthly plan would cost you. It also comes with a 30-day money-back guarantee.
Lastly, we have the twenty-four-month plan. The VPN is offering an extra three months on this plan with no additional hidden costs at the time of writing. You will be charged 48.72 GBP for the first 26 months and then the same for twenty-four after, annually. This gives you the most significant discount and will only cost you 1.69 GBP a month, including the 30-day money-back guarantee.
You can choose from five payment types: credit card, PayPal, Google Pay, Amazon Pay, and cryptocurrency. This is great as there is no limit as to how you can pay. Unfortunately, there is no free trial; however, the 30-day money-back guarantee will be helpful if you aren't happy with your purchase so that you won't lose money.
Surfshark VPN Coupon
Grab the latest
Surfshark VPN Coupons, Promotions and Discounts
here
. Be sure to get these deals today before it ends!
Summary sheet
| Characteristic | Value |
| --- | --- |
| Does this provider have a no-log policy? | Yes, this provider doesn't log your activities |
| Is this VPN service good for P2P? | Yes, it is good for torrenting |
| Netflix catalogues availability | US, UK, IN, IT, NO, DE, AU, JP, KR, PL, FR, CA, TR, SE, SG, NL |
| How many devices can be connected simultaneously? | This provider allows ∞ simultaneous connections |
| Server locations | 100+ |
| Supported apps and devices | iOS, Android, macOS, Windows, Linux, Chrome, Firefox, FireTV, Apple TV, smart TVs, Xbox, Playstation |
| Any refund policy? | Yes, the money-back guarantee lasts 30 days |
| VPN protocols? | WireGuard, IKEv2, OpenVPN |
| Bandwidth? | Unlimited |
| VPN encryption? | Most secure VPN encryption: Military AES 256 bits |
| How many IP addresses does this service provide? | This provider doesn't disclose that information |
| VPN Servers? | 3,200+ |
Using the VPN
Now let's discuss using the VPN in this section of the SurfShark review. This section will include how to make the most out of Torrenting streaming services, whether you can use them in China, and if it's compatible with video games.
Streaming services
Did you know that America has one of the largest Netflix libraries in the world? Every country has a different library due to copyright reasons and geo-location. So what a VPN can do is change your IP address to a location of your choice so that Netflix thinks you are in the location and therefore offer you the library of the place. So you can change your IP address to one in the US to access their content. I use this regularly as I enjoy watching US shows that aren't available where I live.
Other streaming services that Surf Shark can unblock are Disney plus, HBO, Hulu, VUDU, Prime Video, BBC iPlayer, CBS, Hot Star and DAZN. The US is not the only place with better content, but the UK, Canada, and Japan are also great for content.
Torrenting
Next up in this SurfShark review is torrenting. Surf Shark have a zero-log policy which means they will never keep your data. The IP addresses are also entirely different to your real one, so you can safely download torrents. All of their servers support P2P apart from the countries that don't allow torrenting, so connect to one that does allow it, and you are ready to go. A few tips if you are downloading torrents: Turn on the kill switch, change to an OpenVPN protocol, do an IP leak test, and keep your VPN on.
China
China has censorship laws regarding blocking websites and applications. Many Chinese citizens want to overcome this as they may want to use apps such as Instagram. Many VPNs are unavailable in China as they failed to overcome the blocking issues; Surf Shark isn't one of these. So you can use this VPN if you are in China or looking to visit China soon.
Video games
Lastly, in this SurfShark review, we will discuss if it works well with video games. So does it help with gaming? Yes! We recommend using this VPN for gaming because it will help reduce lag when playing games such as Fortnite or COD. It is also helpful to hide your identity, especially if you are playing with strangers online.
VPN features
Next up in this Surf Shark review, we will discuss all the features unique to this VPN.
You can get an ad-blocker at an extra cost. However, we recommend getting this combined plan because not only does it block ads, but it also blocks malware, help you avoid phishing, and even reduces the cost of your data and boost your browsing speed.
You can use one subscription for an unlimited amount of devices. This is unlike other VPNs, which cap you around 5-10, so you can keep your family protected as well as yourself.
They also have a Bypasser known as split tunnelling, allowing you to choose what your VPN covers. When I had my VPN turned on and tried to use my banking app, it malfunctioned; however, I didn't want to turn off my VPN, so I used split tunnelling to help overcome this issue.
Above are the three unique features of this VPN; next up in this SurfShark review is the other features they have:
Strict no-log policy – They don't monitor or track your online activities.
Kill switch – Your activities stay protected even if your connection cuts off.
Private DNS and leak protection – They use this on all of their servers, so you are always secure.
Camouflage mode – This is so your ISP cannot see who you are or what you do.
Browse privately – stay anonymous online by encrypting your internet.
No border's mode – This allows you to use SurfShark no matter where you are.
Change your IP – By connecting to another server you are actively changing the IP address of your device.
Encryption – They use AES-256-GCM encryption.
Secure protocols – OpenVPN and IKEv2/IPsec.
Locations – Over 3200 servers
Windows Client
In this section of our Surf Shark review, we will talk about the Windows Client. We will discuss two points, the interface and the settings.
Interface
This VPN has one of the easiest user interfaces to navigate, the sections are clear and easy to read. They had a favourites section, I liked how easy this was to use and find because I often use the same servers, and it can be annoying to search for that server every time I need it. They also have a static IP section if you need to use those servers, it is easy to find. There is also a MultiHop section, which is using 2 servers at the same time for double encryption, however, be warned it can slow down your internet. The Split tunnelling was simple to use and is not something you always see in VPNs, so I was happy with this. Overall everything was easy to find, and the layout and design were excellent.
Settings
As mentioned before they have a Kill switch if your connection cuts off, so nothing will leak. Also mentioned earlier in the protocol they use, OpenVPN and IKEv2/IPsec. IKEv2 and IPsec are the protocols that come with every device already. The settings section were easy to find and had the basic settings for you to be able to configure. There were lots of protocol options available on SurfShark, so you can play around and see which one is most secure for you, we suggest OpenVPN.
Other Application
Next up in this SurfShark review is their applications. Here are the devices that the Surf Shark app supports: For Desktop, they support Windows, macOS. For mobile devices, they support Android and IOS. They also have browser extensions for Chrome, Firefox, and Microsoft Edge. Smart TVs, they support Amazon Fire TV, Apple TV, Android TV, Roku, Chromecast, LG TV, and Nvidia Shield. There are lots of application compatibility and as you can have unlimited devices you can encrypt all the devices you own.
Test results
Next up in this Surf Shark review, we will look at the speed and DNS leak test results from this VPN. Firstly we would like to give you a few tips for when you do your own speed tests. Sometimes it can be your own internet that is slow, it is not always the VPN that is slow. To see if this is the case then complete two tests, one with the VPN on and one with it off to see what is the cause for slow speeds. Another reason for slower speeds could be that you are using a server that is quite far away from your original location, the further the server the slower the speed.
Speed test
Firstly, in this section of the SurfShark review, we will discuss the speed test. When conducting the speed test we saw that the speed was very high, keeping in mind my internet is at an average speed. Even when connected to an American server whilst being in Asia it was still relatively fast.
DNS leak test
Secondly, in this Surf Shark review, we will discuss the DNS leak test. Although they already say that they have DNS leak protection there is no way you can be certain until you perform a DNS leak test. So we did this for you, The test came back positive, showing a completely different IP than ours and displaying that there were no DNS leaks, which we wanted.
Customer service
Personally, I think their customer service was great as they offered a help centre, which was easy to locate, and they had options for you to choose from. When you are relocated to the help centre the first thing you will see is the search bar, this is great as you can quickly find a solution without having to explain it thoroughly first. they offer you four sections, Getting started, troubleshoot issues, billing and account, and general info. they also offer a 24/7 live chat for any person to person contact and an email you can use. To improve this section they could have added a phone number to call for people who prefer that method.
Comparisons
Next up in this Surf Shark review is our comparisons to a couple of other VPNs. The VPN we have chosen for this comparison are NordVPN and ExpressVPN.
| | SurfShark | NordVPN | ExpressVPN |
| --- | --- | --- | --- |
| Do they log your data? | No | No | No |
| Do they work well with torrenting? | Yes, all servers optimised | Yes, specific servers | Yes, specific servers |
| Streaming services | All servers work well | All servers work well | All servers work well |
| How many simultaneous connections? | Unlimited | 6 | 5 |
| Server locations | 63+ | 59+ | 94+ |
| Device availability | 14 | 17 | 23 |
| Refund policy | 30-day money-back guarantee | 30-day money-back guarantee | 30-day money-back guarantee |
| VPN protocols | OpenVPN, IKEv2 and IPsec protocols | VPN protocols WireGuard, OpenVPN (UDP/TCP), and IKEv2/IPsec | Lightway, OpenVPN (UDP/TCP), L2TP-IPsec, SSTP, PPTP |
| Bandwidth | Unlimited | Unlimited | Unlimited |
| Encryption | Military-grade | Military-grade | Military-grade |
As you can see SurfShark does not have features as good as the other two as they are higher in rank. However, for a new VPN, its features so far are great and still have room for improvement. This SurfShark review comparison cannot go into detail about the other features, therefore, we recommend that you read our reviews on this as well. To go straight to these reviews follow our links. ExpressVPN, NordVPN.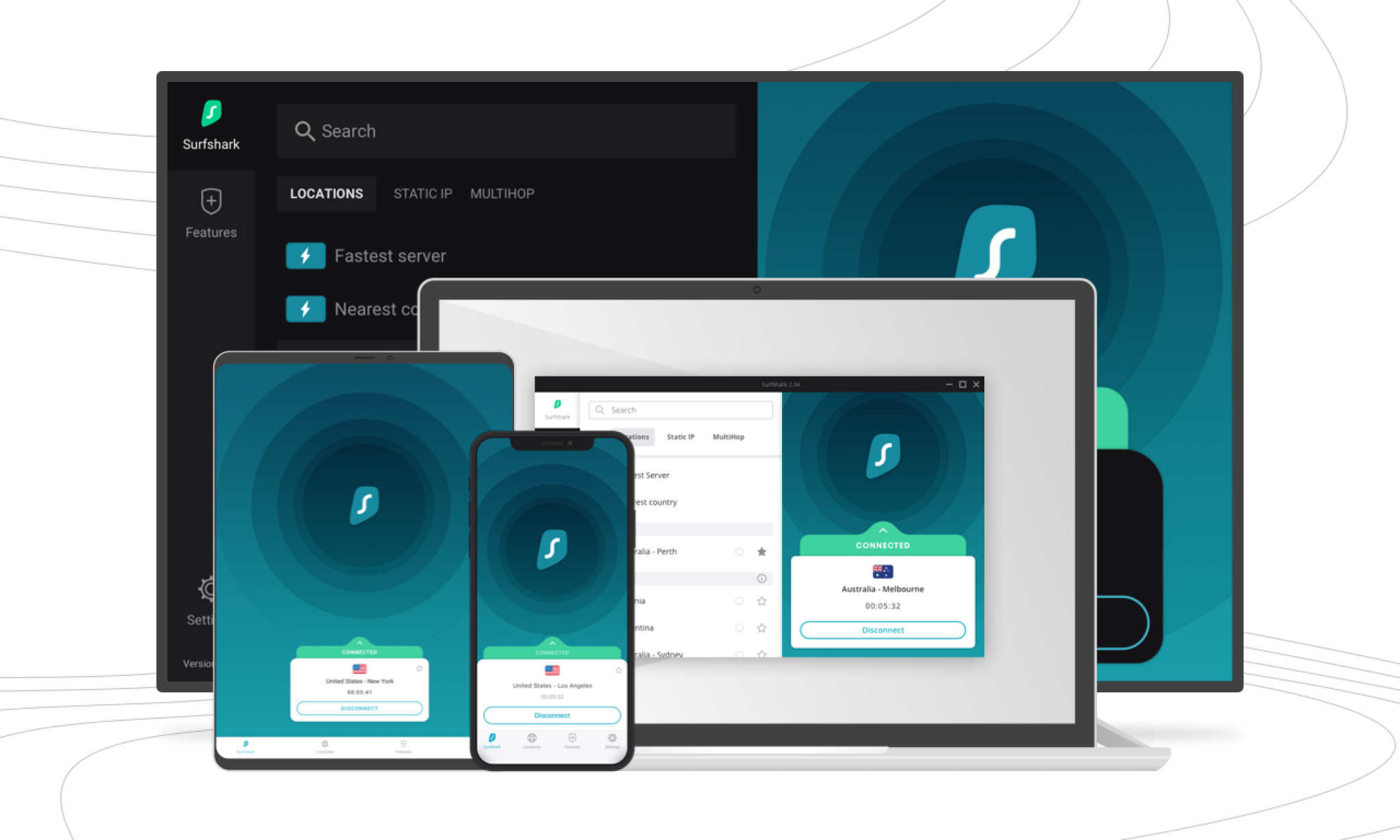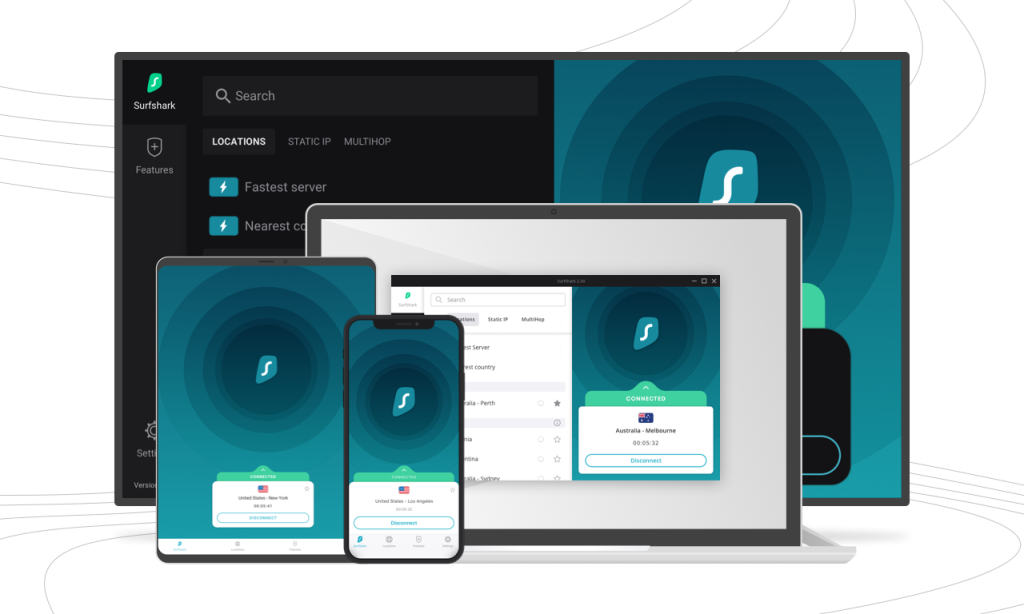 FAQs
Here are some frequently asked questions we answered, that you might have too.
1. Is Surf Shark safe?
Yes, it is very safe as it uses Military-grade encryption and has a no-log policy.
2. Is SurfShark expensive?
Actually, it is not that expensive compared to other VPNs we believe you get the most out of what you pay for from their features
3. Is there a free version?
No, They do not offer a free version or a free trial, however, they do have a 30-day money-back guarantee.
Conclusion
In conclusion to this Surf Shark review, we believe that this is a very good VPN even if it is still new, and although it is lacking some features both on the app and website, there is a lot of room for it to improve. We hope that this SurfShark review was able to help you choose a VPN that is right for you, if you have any questions or suggestions please leave them in the comments section. Please follow this link to go to the SurfShark site.
PROS
Fast speeds
User-friendly
A high volume of app compatibility
Torrenting available
No-logging policy
Many servers
CONS
New
Lacking some features