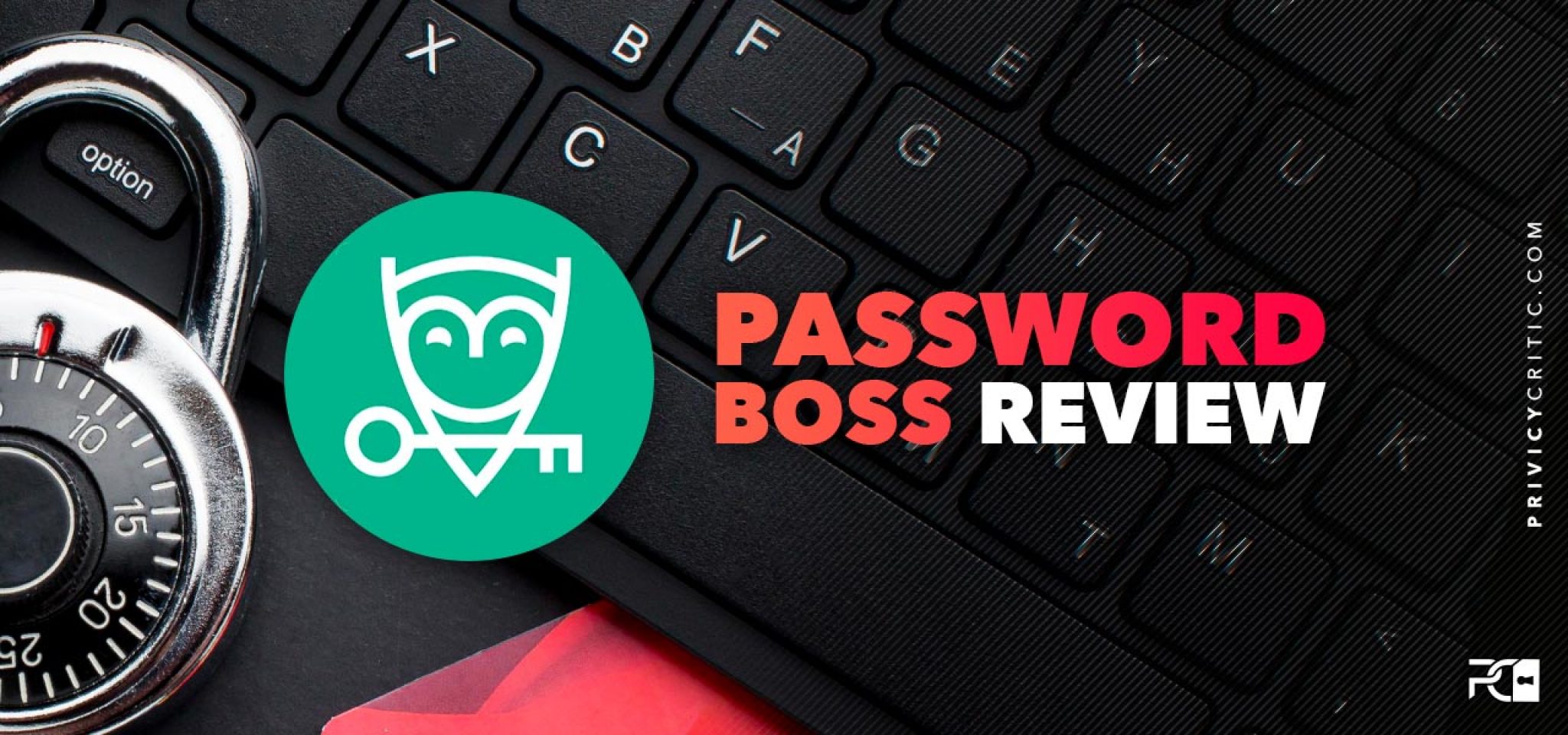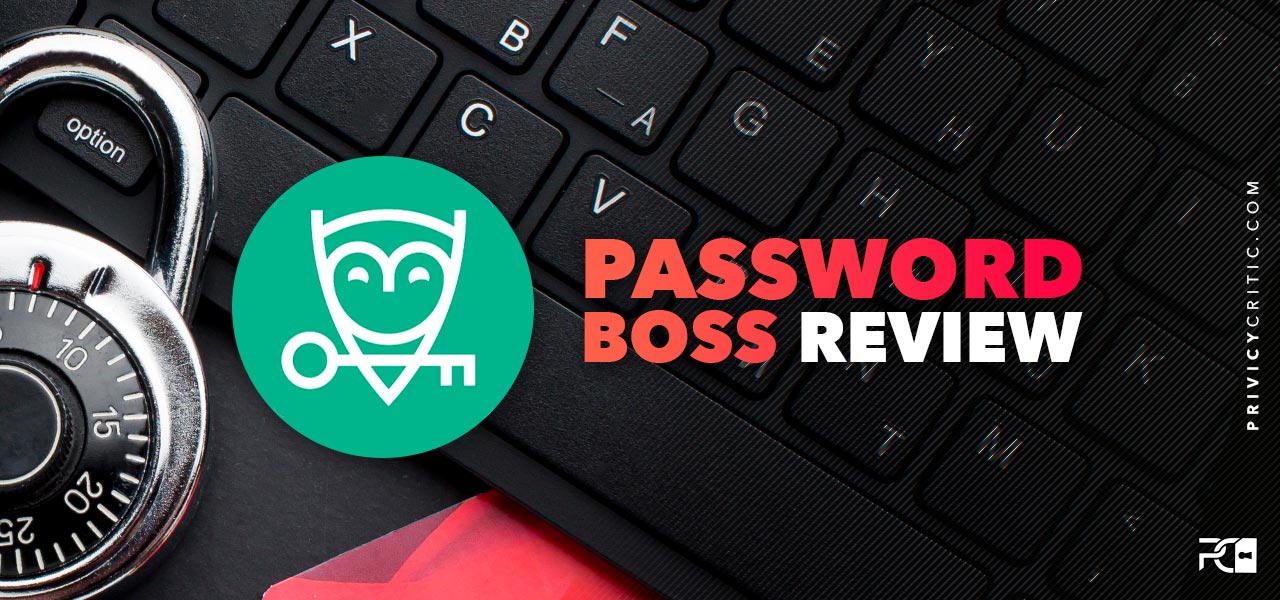 With so many websites and apps that we need in our lives, remembering every single one of them can be quite challenging. You can't just use the same password for every account you have because that would put you in a great risk of hacking. Writing them down seems like a workable solution until someone snoops in and uses them without your knowledge. So, how will you solve your password management dilemma? Read this Password Boss Review to find out more.
If you have heard of password managers, you might feel apprehensive about using it. Trusting an app to handle each and every one of your passwords? That sounds like a recipe for a disaster! However, we'll go into each of the features that Password Boss has to know if it can truly manage your passwords safely.
Password Boss in a nutshell
Password managers are apps that keep your passwords from websites and apps, store them in an encrypted vault, and remember them for you whenever you want to log in. It automatically fills out the password field so you don't have to juggle every single password in your mind.
Password Boss is a free password manager software that does this and more. Aside from keeping and remembering passwords, it also auto-fills personal information fields when you're filling out forms. You can also store other important details such as bank and credit card accounts, travel documents, social security number, and others. We'll discuss more of its features below.
Browser auto-fills are dangerous
You might ask, "Why do I need to install an app when I can just use my browser's auto-fill feature?"
The truth is that using your browser or operating system to remember your passwords and automatically fill them out for you is very risky. Sure, they might be more convenient since you won't have to install anything. But using auto-fills puts you at a greater risk of being hacked.
The number one reason is that browser auto-fills are not encrypted. Anyone with the technical skills can easily intercept your data and use your information for their benefit. They can bait you using fake log-in forms which your browser automatically fills in, then the information gets sent to them. Or your PC could get stolen and the thief can easily access your accounts because you have enabled the Remember Me option.
An encrypted password manager, on the other hand, offers impenetrable security so your information is safely tucked away. However, it doesn't mean that all password managers are created equal. You still have to be careful and do your research on the software you want to use. In this Password Boss review, we'll tackle each of its features and assess at the end of the article whether it's recommendable or not.
Password Boss Features
With the Password Boss app, you'll get the following features for managing your data:
Save your password only once for it to be synced to your other devices, such as smartphones and tablets
Automatically fills in forms for online shopping with your bank or credit card details
Safely stores digital records like IDs, insurance notes, bills, and travel documents
Password sharing is easy for accounts like Netflix, Wi-Fi, and Pandora
Get unlimited password storage and password sharing
Generate strong and unique passwords for your accounts
30-day money back guarantee
Safety features:
256-bit AES military-grade encryption, similar encryption used by banks and governments
One master password to access Password Boss
Two-factor login without the master password
Password Boss Download and Setup Tutorial
To help you get started with Password Boss, this step-by-step tutorial will guide you through the process of downloading and setting up your account.
Downloading and setting up
Password Boss is free to download in their website and you'll get a free trial of the Premium suite once you do. It's also available for iOS and Android smartphones.
First, go to their website and click the Get Password Boss FREE button to download the software.
2. Once the download is complete, click the installer to start the setup wizard. The installer will display a window with a prompt. Click Allow to enable setup, then on the next window, click the Install button.
3. After the installation is finished, click Finish to complete the setup wizard.
4. The Password Boss icon will appear on your desktop. Double-click the icon to open the Password Boss app and start creating your account.
Creating a Password Boss account
Once you have finished downloading and setting up, you're now ready to create your Password Boss login account. Only one account will be needed in order to access all items you store in your vault.
Fill in the necessary fields and generate a master password. The master password is the only password you will have to remember to access your account. Be sure to remember this one or else you won't be able to open Password Boss if you forget it.
2. After you have successfully created your account, the next step will be filling up your personal information. The details that you put here will be used by Password Boss to fill out forms for you in the future. It includes some basic information such as your first and last name, address, city and state, and zip code. Click Continue to proceed to the next step.
3. Once you're done, you may now add websites and apps with your password. The next step will teach you how to do this.
Saving passwords for websites and apps
You can check your progress in setting up your account with the Setup Password Boss in 5 Easy Steps. Step number one is already checked since you've finished creating your account.
To proceed to step number two, click the Save a password menu.
2. This window will let you choose what item you want to add a password in. Select the one from the choices by clicking it. For example, we'll choose Website.
3. Simply fill in the necessary fields, then click Save once you're done. You can also customize the name and icon of the website. Once you're done, the website will appear on the dashboard.
4. To add more items, go to the dashboard and click the red (+) button on the topmost toolbar. The same process applies to the other items.
You can add other items such as bank and credit card accounts, passwords for Wi-Fi, database, servers, email accounts, instant messenger, SSH keys, and other systems.
Adding and deleting a device
To add a device, simply install the app from the website if you're using a PC, or through Google Play or App Store if you're using mobile devices. Log in to your Password Boss account using your email and master password. The device will be added to your list automatically.
To remove a device, follow these simple steps:
Open Password Boss and select Settings on the bottom-most part of the left menu, as encircled in the photo below.
2. Click the Devices folder to show the devices using your Password Boss account.
3. Click the name of the device that you want to remove to highlight it. Then click the trash icon and confirm the deletion. You will receive an email notification that the device has been successfully removed.
Deleting your Password Boss account
If you don't want to use your Password Boss account, you can delete it forever. Once you do, all the information stored in your account will be permanently wiped out and will never be recovered.
Uninstall Password Boss from your PC or mobile devices.
Log in to your account at the Password Boss portal.
Click My Account then go to the Delete Your Account section. Enter the email address for your Password Boss account and click Next.
An email will be sent to you with a verification code. Enter the verification code from the email you received and click Delete Account.
The Verdict: Is it secure and helpful?
Absolutely. What we love about Password Boss is that it saves a few of our brain cells from trying to recall which password we used for a certain website or app. Because we're not blessed with sharp memories, it's truly a helpful software. It's also very secure because of the strong encryption so we didn't worry about any data breach.
The best part of Password Boss for us is that we can also store important digital documents in there. We don't have to keep them in a folder on our computers which is unprotected. It efficiently keeps every document in one place.
Our only concern is that it doesn't support Password Boss Mac as of the moment. Perhaps they will develop this so Mac users can also benefit from Password Boss in the future.
In conclusion, Password Boss is a wonderful password manager which is safe and efficient, and we highly recommend it to everyone.
Password Boss review: Highly recommended
If you need a password manager, this is definitely a solution to consider. Anyone can easily use it to not only manage passwords but also improve your experience while browsing websites.
PROS
Available on most platforms
Multi-device capability
Military-grade security
Form auto-filling
Secure sharing
CONS
MAC is not supported
No syncing feature on the free version