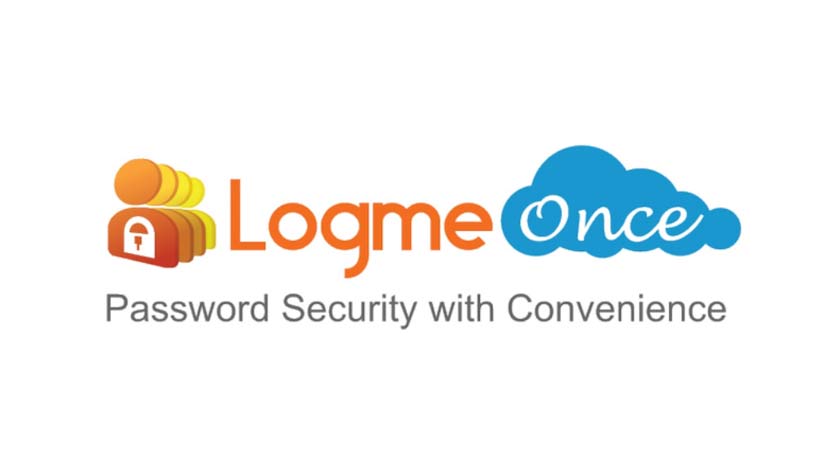 It's easy to repeat passwords or use similar ones, but it's a big risk. Cybercrime is rising, and the last thing you want is to be hacked or have your online identity stolen.  Managing multiple passwords is always a struggle. But it's also a must.
This article was last updated on 6 December 2023
This flood of passwords gives password managers like LogmeOnce, spin-off their popularity.
Today, we are testing our reviewing techniques around LogmeOnce password management software. With most password managers, the first thing is to create a super-strong password that will protect all your other passwords.
In this LogmeOnce review, we will talk about everything we liked and didn't like – starting from pricing to features, user-friendliness, security, and support before rolling out our verdict.
What is LogmeOnce?
LogmeOnce is a two-factor authentication password manager that will let you sync across devices – Windows, macOS, iOS, and Android, offering a range of features say anti-theft solutions, passwordless default login, productivity dock, LogmeOnce mugshot, and many more.
But wait! Read this LogmeOnce review before giving it a shot.
LogmeOnce Pricing
LogmeOnce offers four subscription plans;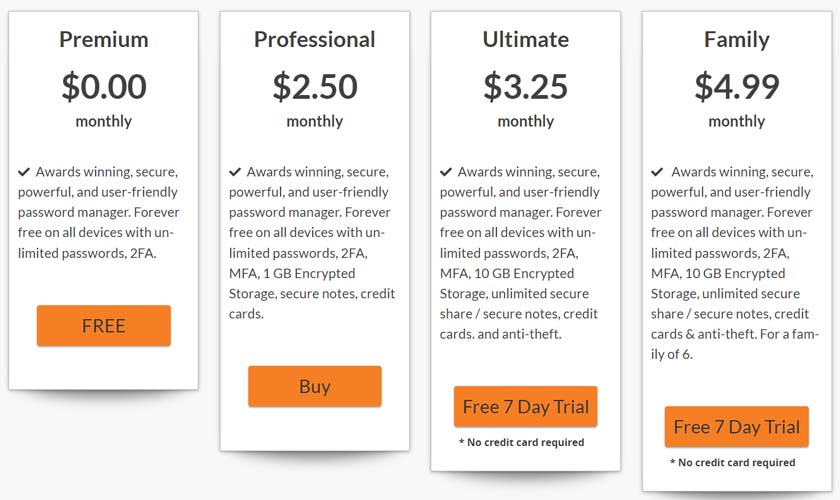 Other than these plans, you can also avail their services for free, but with limited features.
The free plan, for the most, offers unlimited password storage with multi-device sync; for example, it comes with encrypted file storage (only 1MB of it). You can store a few high-quality scans in that, maybe.
Professional adds up a few features – Productivity Dock (a bottom toolbar in that mimics the one found in macOS); it's shocking to see that LogmeOnce hasn't received a cease and desist order so far.
It also adds some ways to organize your vault, custom groups, detailed reports, and a high limit on password-sharing; the differences between Professional and Free aren't more, but the low-priced upgrade would be worth it.
Even the top-tier plan, Ultimate, doesn't add much; only the storage limit will raise to 10GB, share as many entries as you want, and schedule future logins. There are other features too – remote logout and device wipe, but whether these justify the cost or not, you have to decide.
You'd assume or, at least, we did that Ultimate would include all of LogmeOnce's features, but it's not the case; a feature called Mugshot – which takes a picture of the thief if the device is stolen – and even the SHOCK is still limited, and surprisingly we didn't find a way to purchase them on its site.
The "buy" page shows some of LogmeOnce's products with inconsistent lineup; "bundle #1" is for Ultimate edition and Mugshot, whereas "bundle #1" in the interface is for the same plus SHOCK and 20GB of file storage.
The subscription plans are quite simple, but the extras are anything but.
Even with scouring, it was hard to pin down a price for each product – how to add products to our account; though the prices are fine, it seems like too much hassle to go through checkout.
Why should you Choose LogmeOnce Password Manager?
LogmeOnce is trusted and used by more and more people due to its advanced yet excellent features and innovative technologies; no theft, hacks or snoopers can steal your passwords or personal data.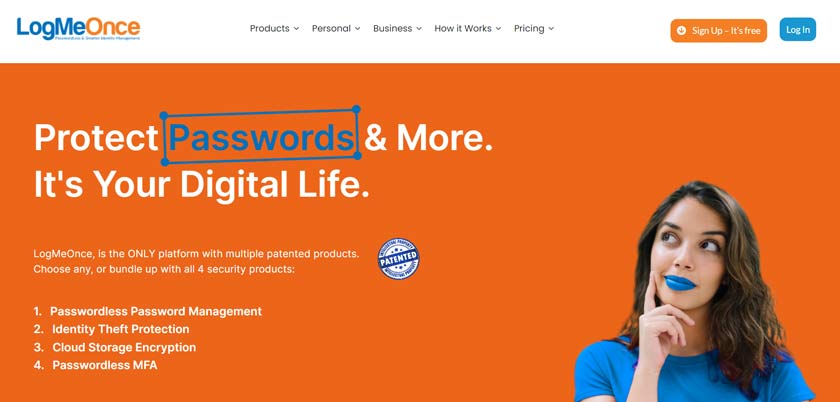 The notable features are;
Anti-Theft: The thief can't go too far!
You will never ever wish to misplace your phone in some strange place, but it does happen.
LogmeOnce offers a set of anti-theft features for the next time this happens to your favorite PDA – whether you left it in a jacket hanging in the closet, slip between your couch or—worse—in the backseat of a cab, you will trace its whereabouts.
LogmeOnce offers different ways to get a hold of your missing phone:
Wipe: Delete all LogmeOnce data if the device is stolen.
Lock: Remotely lock your device with a password.
Ring: Get the phone to ring at top volume, to find it easily.
Log out: Remotely log out of the misplaced device, and instantly protect the data it holds.
Remote locate: Get its GPS location on to locate.
Direction: Plot the device's location and get directions on a map.
Display message: This will display a message and help finder to get your phone back to you.
LogmeOnce Mugshot – No need to guess-sketch a hacker!
Snap the hacker's photo! Find out who is trying to break into your LogmeOnce account via all your (various) devices; detect all break-ins to your Android – yes, LogmeOnce Mugshot detects unauthorized and fake entries for Touch ID, fingerprints, passcodes, and passwords! If you type in a wrong password, LogmeOnce immediately snaps a photo via your front-facing camera.
Before heading ahead, let us tell you that as much information as we are providing to these ISPs and cellular companies, we are getting more vulnerable to become a victim. Your online security and privacy is on the verge.
Mugshot will snap the hacker's photo, GPS location, video, audio, map, and IP address; thanks to its dedicated and secure web portal account. Not only these, but even Mugshot also expands the protection by taking more pictures of the intruders' surroundings; the data will be emailed to you in the background!
Before enjoying the fact that you have caught them in the act — stopped them from stealing your data and identity.
Anti-Lock: Stop getting locked out!
Don't fear getting shut out of your account/s, let LogmeOnce Anti-Lock access your accounts properly and securely; enforcing security is critical, but avoiding lock-outs is equally essential.
Passwordless Access: Benefits that come with this feature includes PasswordLess access – pair your mobile phone and enjoy easy access; it is more secure than entering a lone password.
Duplicate Key: Once paired, the trusted devices will also grant access back to your account if you get locked out of your PC for some reason.
Some other benefits are:
Anti-Lock is a preventive measure.
Your mobile device also works as an account recovery tool.
Desktop logins will be approved via mobile devices.
You can pair/add as many mobile devices as you want to your account.
Selfie-2FA (Two-Factor Authentication) – Your face will be the OTP
Selfie-2FA is the newest LogmeOnce Two-Factor Authentication methodology. The patent-pending Selfie-2FA is unique as an actual image, photo, or picture of an object is required for the 2nd factor of authentication. Unlike traditional 2FA that use a "One Time Token" and string of digits for a 2nd factor, Selfie-2FA use of an authentic image as secure credentials.
This will also reduce the inconvenience of establishing token's secure communication, and nobody (except you) will process the 2FA.
Secure Wallet – for the love of your express checkouts!
If you enjoy an express checkout, then LogmeOnce Secure Wallet will be your best buddy, enabling you to store credit card(s) information and run auto-payments online; no more keeping physical wallets, no matter where you go!
Don't worry! LogmeOnce Digital wallet is password protected that will require double-authentication to gain access to your payment cards and methods; store and uses your debit, credit, passport, driver's license or ID, insurance card and even loyalty cards. It's safe, secure, and easy to use.
Additionally, you can also back up your personal information; use its note-taking feature to keep track of any information you may need to refer to in the future.
Productivity Dock – one-click operation!
LogmeOnce has a popular User Interface (UI) with a great welcoming feature –  "Productivity Dock."
It is engineered to take full advantage of feature-rich LogmeOnce, offering you quick access, and lets you launch your apps with a single click.
Scroll your mouse on each App, and you will see a magnifying label for easier recognition; don't know what an app holds? Click on your desired App and get to know without actually proceeding with it!
Secure Note – LogmeOnce will remind of your dates!
Securely store and encrypt your private information with LogmeOnce Secure Notes; it just like a password-protected digital notepad that lets you create, edit, and even color for easy recognition and search. And you can access it anywhere, anytime.
It securely saves the data such as driver's license info, passport numbers, credit card data, birth dates, bank account numbers, and SS numbers.
LogmeOnce encrypts data on your system with AES and the password that YOU know.
Visual OTP – Double protection
Visual OTP is part of LogmeOnce's multi-factor technologies that independently generate and promptly display on both – PC and mobile devices – so that you can visually compare both OTPs. It is an extra layer of protection and an added authenticating factor.
No Webcam? No Worries! You can still benefit from PhotoLogin with a genuine image right from your desktop; it is an unrivaled new feature.
Emergency Access with your Photo
Stuck in an emergency situation while away from your system? Ask your trusted friend to help you by granting them immediate access.
With this LogmeOnce's feature, you can see and verify the photo, GPS location, and metadata of the person before granting access. Worry not! Your access code is concealed, your friend never gets to know your master password.
How does it work?
You will receive the trusted party's request on your mobile along with their photo and location. (If no webcam is available, you get a Visual OTP).
Click to approve of giving access for up to 24 hours – you can revoke access at any time.
LogmeOnce's patented technology is intelligent and has multiple ways to protect our credentials.
Kill-Pill – wipe off your data before a hacker gets into it!
Got a report of a lost PDA? No worries. Simply send a Kill-Pill to instantly wipe off LogmeOnce data stored on it; remote access to the LogmeOnce account will then be denied.
This latest security feature is for consumers, businesses, and enterprise end-users; remotely command the device to chime so the device can be found. If confirmed the device is lost (and perhaps stolen), send a Kill-Pill to wipe out the LogmeOnce security credentials and associated data available on the device.
LogmeOnce PhotoLogin – your style, your security!
LogmeOnce PhotoLogin is a brainchild of patented and patent-pending technology that gives you the power to take an instant photo; your authentication factor will change in a millisecond, whether you're holding a stapler or showing off your cufflinks.
How could hackers know how you will pose or wearing to log in? They do not even know your photo's background, color, scene, walls, windows, or room's ambiance!
Facial recognition tools won't capture your entire face, it only focuses on one small area of your face, comparing your facial biometrics to a pre-saved image either in your device or on a centralized server.
PhotoLogin offers millisecond intelligence and accuracy, surpassing the potential of facial recognition by capturing an entirely unique image, including the surroundings, and background.
Password Calculator
The password calculator is essentially the same as a password generator of any password manager, generates a long, unique password that you can customize based on the combination of numbers and characters you want to use.
Do you think that a hacker would now bother or be interested in a password that takes around 6,000,000,000,000,000 years to be cracked? Most probably they move on to a much easier target.
You can also generate a password using the browser extension and it will automatically save to LogmeOnce database or generate a new one when you're adding an entry in the application.
Features are done!
How about the security of LogmeOnce?
Is LogmeOnce Secure?
Let's clear this mysterious air!
Protect your Credentials while enjoying secure computing and protecting your passwords and IDs with Military-Grade encryption technology.
Isn't that simple?
Encryption: LogmeOnce employs Advanced security encryption such as AES and SHA-512; its preconfigured and run in the background, you don't have to do anything.
Passwords: Nobody has access to your password, not even LogmeOnce employees and servers; your information remained private and are all encrypted with a unique key
Accessibility: LogmeOnce suite will let you secure access at any time, anywhere, on any device; your secured credentials are deposited and locked into your Cloud Safety Deposit Box with a unique key. LogmeOnce will never have your key.
Shoulder Surfing: LogmeOnce suite protects against Shoulder Surfing while typing usernames and passwords, which is mildly terrifying and a serious concern. With this password manager, no need to type in passwords to access anything; simply click on an application, and you have logged in automatically through its secure and encrypted access management process.
Keyloggers: LogmeOnce suite also provides protection against Key-loggers. Passwords hijacked in different ways. The reason a password is stolen by keyloggers is that the passwords communicate in cleartext. LogmeOnce prevents this problem by encrypting and hashing passwords and then sent as a secured package with SALT.
Cloud Identity Management: LogmeOnce suite offers Cloud Identity Management to relieve your pain of having multiple passwords for cloud applications. With LogmeOnce Cloud Identity Management, enforce your own security policy or corporate standards for cloud access and improves productivity for IT by relieving password reset requests.
Multifactor Authentication Security: LogmeOnce Multifactor Authentication Security (MFA) serves a vital function – securing access to your assets, protecting the identities, and ensuring that you're claimed to be.
Everything sounds cool, right?
Let's start using it!
How to use LogmeOnce Password Manager
Using a password manager can be an intimidating process, but don't worry! LogMeOnce offers thorough training for newbies.
After installing the service, sign up for an account using your name and email address; you can also sign up via Facebook.
Once signup, you have the choice between using a Master Password or go with the passwordless authentication; the second option is recommended; in the second one, you will also need to choose or create a security question.
Next, you'll be needing the browser extension for the most use one; here, you will be asked to store credentials in the cloud or on your device – pick your preference.
Now, you will be able to import passwords from the browser and sync your account/s to various mobile devices; use your email address and register as many devices as you want.
LogmeOnce Support
Though the features are in a hot mess, support also feels refined; contact LogMeOnce any time by using the "help" button in the bottom right corner. Once you type your question, it will try to find an answer in the knowledge base or ask you to fill out a contact form.
We reached out twice, the service responded within an hour both times, answered our questions, and pointed us toward additional content.
Clicking "support" at the top of its homepage will send you to the support area, which has five categories;
FAQ
Video tutorials
Enterprise support
Provide feedback
Submit a ticket.
Oddly, the feedback option redirected us to the main support page.
The knowledgebase is good, though all articles have step-by-step instructions and screenshots, some have a video tutorial instead. You will find them boring but will do a good job explaining the complex system of LogmeOnce.
There's a reference to a community forum in the support tab, filled with advertisements and a "coming soon" message.
While password managers don't require extensive support, the service has you covered if you do.
Our verdict – Is LogmeOnce feature-packed or disappointing or both
LogmeOnce is collapsing under its own weight; you might not find a more feature-rich password manager, but the relevance of its features is under question.
SHOCK and Mugshot seem more like corner case gimmicks than anything; its usability is also a big question mark – how a feature-rich password manager remained the same over a decade, even though the interface is relatively new.
Website navigation is horrible with a terrible organization of features in the dashboard, and there's no clear way to upgrade any plan; on that front, LogMeOnce deserves a serious revamp.
Have you used LogMeOnce? Do let us know your experience in the comments below.
As always, thanks for reading!
LogmeOnce Review
LogmeOnce boasts a list of features that are quite unique. It's hard-core security makes it one of the best Password Managers in town, especially multi device syncing feature.
PROS
Affordable Plans
Additional Security Features
Live Chat Support
Two Factor Authentication
Prices and Clear Terms and Services
Unlimited Password Storage
CONS
The service is very hard to use, especially for new users
Combining all the add-ons together with a month of subscription will cost users more than any other password manager.