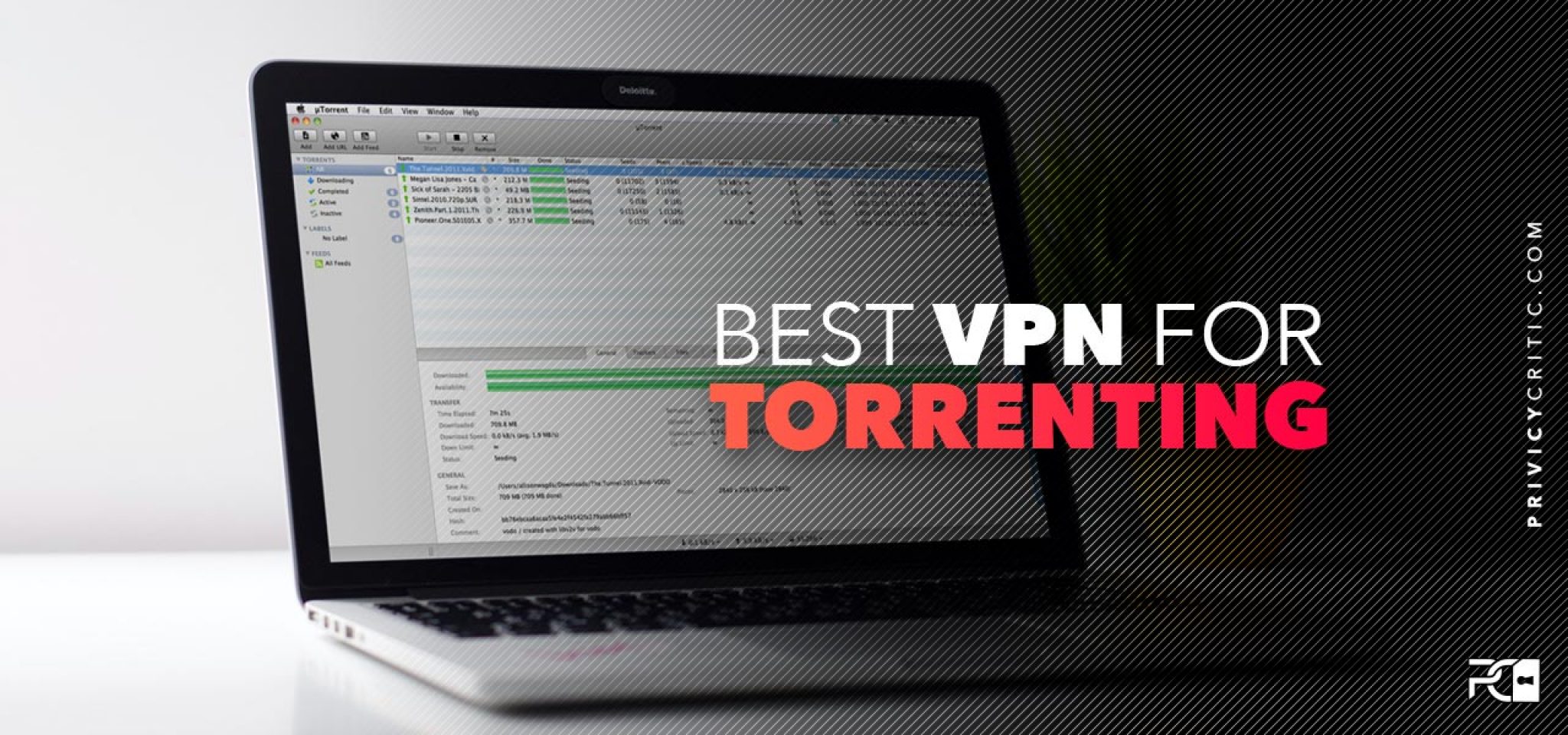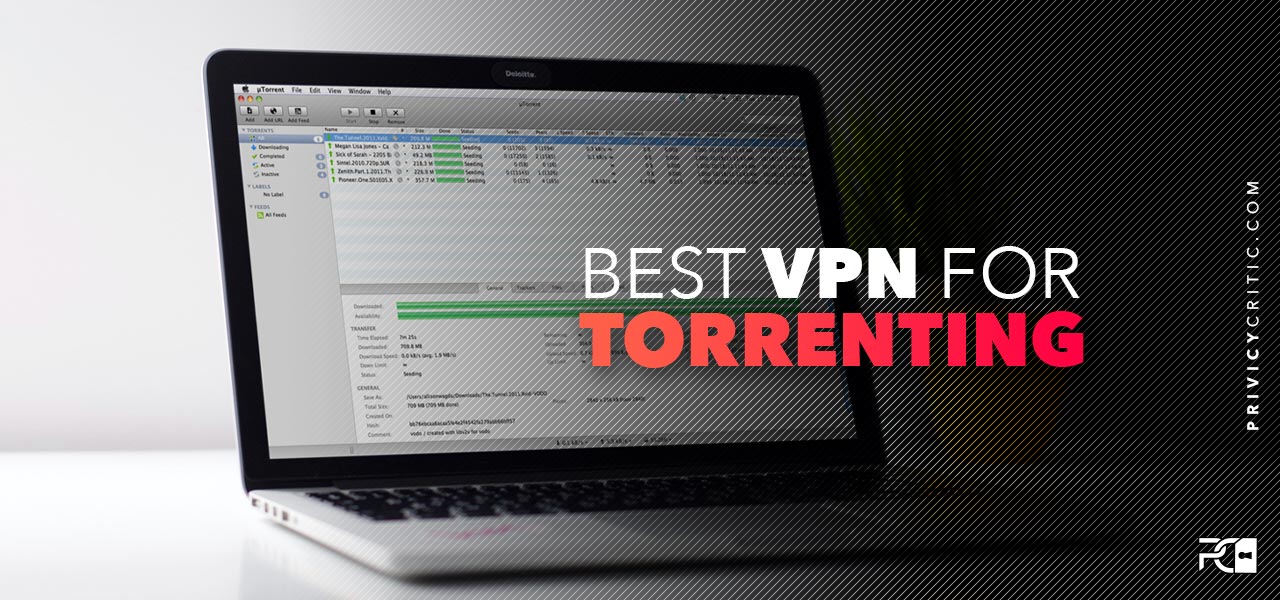 Media houses and corporations around the world are joining hands to monitor torrent traffic and collect the IP addresses from the torrent swarm. You can be the one unlucky victim who might get caught and received a legal notice. Do you know the legal penalty for downloading copyright content? Well, you can be jailed for up to 14 years with heavy charges demanded by the Copyright Holder to repay the damages. If you don't want something like this to happen to you, we recommend using the best VPN for torrenting. Be anonymous, safe and traced-free with a secure best Torrent VPN or best torrenting VPN.
Before getting into more details, let's first have a look at the list of our top 5 picks and why they rank as the best vpn for torrenting:
Top 5 VPN for Anonymous Torrenting
We have tested over 30+ VPNs for torrenting and found the five best among them. Check out our recommended VPNs for torrenting and P2P file sharing.
Disclaimer: PrivacyCritic in no way encourages any illegal copyright activity. We do not support violating any law or going against legal authorities. As an online freedom speaker and security enthusiast, we care about your security and privacy. If you prefer to stay anonymous, we suggest using the best Torrent VPN.
Criteria of PrivacyCritic to Judge A Best VPN For Torrenting
Torrenting requires some specific features in a VPN and finding the best combination of Torrents and VPN is not that easy. Although there are a dizzying number of VPNs available in the market, still users find the best VPN service that suits their requirements. There are a bunch of factors the best Torrent VPN or best torrenting VPN should have; we will go over some of the important factors about best torrenting VPN which we analyzed before giving the list of top 5 best VPN for torrenting. Here are the ones we examined:
Jurisdiction of the Company
The VPN company should be located in a privacy-friendly country and preferably outside the USA and all the countries included in 14 Eyes nation.
Torrent Optimized Servers
Not every VPN or best torrenting VPN supports P2P file sharing, so we need to be very careful when picking a VPN for the torrent. VPNs offering optimized torrent servers or allow torrenting on all of their servers are the best to consider.
No IP Leaks
A VPN should not leak your IP while you are connected to it. A VPN should clear a test for IP leaks. You can quickly check it using 'IP2Location' or 'whatismyipaddress.' Follow these steps to check if your VPN is leaking your IP.
Check your real IP by simply visiting any of the mentioned websites

Now, connect to your VPN client and select the server of your desired location

Once connected, go to the 'Incognito Mode' of your browser and visit either 'IP2location' or 'whatismyipaddress' and check if your real IP is showing on the website or not. If your real ip is still visible on the website, it means your VPN is leaking you IP. But if you are seeing a different IP of your chosen location, it means your VPN is IP Leak protected.
Strict No Log Policy
Many VPN providers or best torrenting VPN companies claim to have a zero-log policy, but in reality, it's not true. Most VPN providers log users' online activities or at least maintain session logs. For a VPN best suited for torrenting, we analyze the 'Privacy Policy' of all VPN providers. We have also checked if the VPN provider has any past record of leaking users' information to government authorities. This should be one of the most important factors while choosing the best Torrent VPN or best torrenting VPN.
OpenVPN Support with high-Level Encryption
OpenVPN is the most suited VPN protocol for torrenting. It's fast and secure at the same time. VPN that offers OpenVPN support are the first priority for torrenters.
Free trial or Money Back Guarantee
No one can guarantee the speed of VPN until or unless it is tested. There are many factors that changes user to user that impact VPN speed. Therefore, it is important to prefer those VPNs that offer either free trial or no-questions-asked money-back guarantee.
Do I Really Need VPN for Torrenting?
If you get on a jet and you have to jump from it, will you still ask, "Do I really need a parachute?" Hell, you won't. Similarly, torrenting without a VPN is like the same jump without a parachute, you will exactly know the end result, and that is a legal notice.
If you are still not convinced, keep reading. The truth is VPN and torrenting go together!
What Are The Tactics Media Houses Using To Arrest The Infringers?
Torrenting is the technology where many users from around the world virtually connect and form a community called the 'Swarm.' Each user shares a small bit of large-heavy files to enable other users to download it.
Media houses with the help of governments and ISPs, creating monitoring nodes. These nodes are capable of joining torrent swarms and collect IP addresses of torrent users. Now, let's say, your client connects with any of such nodes and your IP is naked, you will be caught instantly. This is why torrenters prefer to use a VPN to stay anonymous and safe online.
Sharing and downloading torrents without a VPN is like inviting trouble to knock at your doors. Torrenters use a VPN to keep their uploads and downloads anonymous all the time. The problem, however, is that not all VPNs are suitable for torrenting. Most VPN providers give a lot of confusing and misleading information to sell their service. So many of the 'Best VPN for Torrenting' even leak your IP address. Some of them say they allow P2P, but in reality, they don't. And, some of the VPNs are so slow that you want to give up on them.
Let's have a detailed overview of the haphazard you might face for torrenting without a VPN.
Copyright Infringement Laws In Different Countries – Enemies of Torrenters
Apart from media houses, governments are taking strict actions against copyright infringement by blocking torrent websites and rolling out alarming infringement laws. Downloading torrents without using one of the best torrent VPNs or best vpn for torrenting is high risk. Let's have a look at some of the copyright infringement laws.
United States of America – Digital Millennium Copyright Act (DMCA)
The penalty for violating DMCA law in the United States start from $500,000 and 5 years of jail if caught for the first time. And, $1,000,000 and 10 years in jail if found repeatedly violating the law.
Canada – Copyright Modernization Act 2012
Anyone violating the law in Canada for copyright content will be fined with 5000 Canadian dollars.
United Kingdom – Digital Economy Act (DEA)
The penalty for violating the DEA law is 10 years of jail time.
Australia – Australian Copyright Act 1968
The penalty of violating Copyright Act in Australia is a fine of AUD 2000 per infringement.
The Netherlands – Autoriteit Persoonsgegevens (AP)
It's a clear misconception among people that downloading copyright material is legal in the Netherlands, however it is not. The Netherlands Watchdog, Autoriteit Persoonsgegevens (AP), have strict policies against infringers of copyright material. The penalty is not defined and capped which is not as high as in other countries.
India – Piracy Act
Piracy laws are as strict in India as in other countries. Committing a crime of accessing censored websites and downloading copyright content can result in heavy fines and jail time.
What Have you Learnt So Far?
Using the best VPN for torrenting is a must for all of us. No matter what country you live in, every country has zero-tolerance for piracy and copyright infringement. Therefore, netizens all around the world are using a VPN to hide their IPs and anonymously downloading torrents.
The key takeaway of this article is that, torrenting in its nature is shared which increases the possibility of exposing your real IP. Once your real IP is exposed, anyone including your ISP, government, and media houses can track the physical location of your device.
Apart from the government, many websites are also keeping track of users' IP involved in downloading copyright content and openly publishing it online along with all the activities you have performed.
The best VPN for torrenting not only helps you keep your IP anonymous and hidden, but it also helps you to unblock torrent websites blocked in your region. So, if you haven't subscribed for one of the best VPNs for torrenting or the best VPN for torrenting so far, you should do it now!