Whether you are at work or out to play, having a decent cloud storage app installed on your device is a dire necessity now. Think of cloud storage as your digital vault where you can keep all your confidential and personal files and can access anytime you want. Isn't it great, right? Well, we are not in the discussion how excellent cloud storage technology is; but to address many of your concerns, we'd want to discuss the best options you can use.
This article was last updated on 27 September 2023
Of course, there are heaps of online storage options out there in the market. Each of them offers incredible features that can make your life easy. But the question then comes; which one is the best option? It's a bit challenging to decide among the top players like Dropbox, Google Drive and OneDrive as all of them are great. Previously, we did the comparison of OneDrive and Dropbox. Today, we are going to run the comparison of OneDrive vs Google Drive. Personally, we love both the options are robust solutions to cater data storage needs. But let's give you an aerial view of both the services based on the following criteria:
Pricing Plans
Synchronization & Speed
Application Integration
Security & Content Control
Customer Support
Each of the above criteria helps in the decision-making process, and we'll try to do a fair comparison of OneDrive vs Google Drive to give you all the facts needed.
OneDrive vs Google Drive Comparison: At a Glance
Before we go into details, let's first compare both OneDrive and Google Drive on standard features we all look for in a cloud storage.
BONUS: If you want to earn free storage on every referral, then Dropbox is the ultimate solution for you.
Little more about our First Contender: OneDrive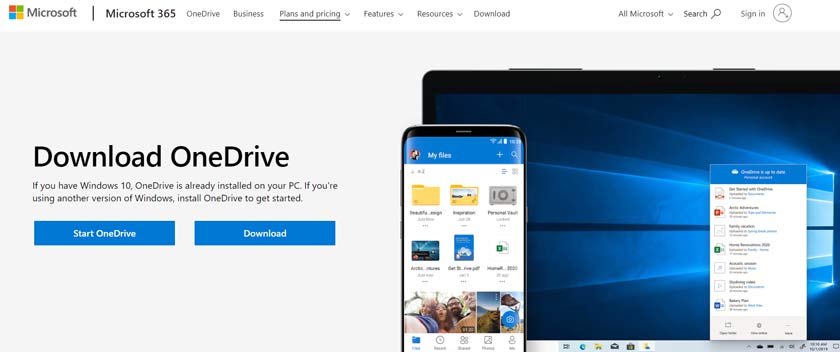 OneDrive (formerly SkyDrive), is an excellent product of Microsoft that works best for individuals and businesses. The service launched back in 2014, and it offers 5GB of free storage when you sign up. Unfortunately, you can't earn more space for free, however, if you sign up for Office 365, then you'll have access to 1TB OneDrive storage. It is an easy-to-use online storage platform and supports Mac, Android, iOS, Blackberry, Windows devices, giving you the possibility to use OneDrive both on your smartphone and your PC. On top of all, OneDrive has a beautifully-looking interface which can be used to drag-and-drop files across different folders.
Little more about our Second Contender: Google Drive

Launched in 2012, Google Drive is a product of Search engine giant, Google. The best part we love about Google Drive is that it is fully synchronized with all Google products. It means that if you have a Gmail account (which we are sure you've one), then you'll automatically get 15 GB of free storage which will be shared between different services including Google+ and Photos. Another good thing about Google Drive is secure sharing of data. You won't have any trouble with sharing important documents with your coworkers or sharing images with your friends and family because this service is that simple to use. Its powerful office suite allows easy collaboration of documents, forms, spreadsheets and even for presentations. Google Drive has native apps available for Windows, Mac, Android, and iOS. And the web interface is just amazing!
The Comparison: Google Drive vs OneDrive
So, we are done with small introduction and comparison of standard offerings of Google Drive and OneDrive. Now let's take each of the comparison criteria and discuss what each of them has in common, or, have better offerings.
OneDrive vs Google Drive: Plans and Pricing
First, in our Google Drive vs OneDrive section, we will discuss different plans and pricing plans each company offers. It is indeed important to understand what other features come with storage space. So, let's uncover OneDrive and Google Drive's plans.
Plans and Pricing of Google Drive
Google Drive offers 15GB of free cloud storage space for a free account. Now, that may seem like much, but you don't forget one thing – that storage space is shared among other Google services, including Gmail. Also, you cannot gain extra storage space through referrals, like with some other cloud storage services. However, what we love about Google Drive is its flexible pricing structure. Namely, you can choose between individual or business plans.
For individuals:
100GB storage space for $1.99
1TB storage space for $9.99
10TB storage space for $99.99
For businesses:
Basic: 30 GB per user $5 per user
Business Unlimited storage space $ 10 per user
Plans and Pricing of OneDrive
OneDrive offers 5GB of free storage space, and also offers a few flexible plan options for those looking for more storage space. Moreover, OneDrive offers both standard users and business plans, so you can select the one that would be good for your needs.
Personal plans:
50GB storage space for $1.99 monthly
1TB storage space for $6.99 monthly
5TB storage space for $9.99 monthly
Business plans:
1TB $60.00 yearly
Unlimited storage space $120.00 yearly
1TB $15.00 monthly or $150.00 yearly
If you choose certain Business plans, you get access to Office 365 plans so that you will have great apps for your business.
With OneDrive there are fewer options when it comes to storage space. However, OneDrive 1TB plan is more affordable than Google Drive. So, both of these services have good plan options, and it is really up to you to decide which one will better fit your needs.
Winner of Google Drive vs OneDrive Pricing: Google Drive
Google Drive vs OneDrive: Synchronization & Speed
Next, in our OneDrive vs Google Drive comparison, we'll discuss how synchronization works for each of the contenders, and how fast they deliver content.
Synchronization and Speed of Google Drive
With Google Drive you can install a Sync-enabled folder on either of the following systems: Windows Vista and higher, Mac OS X Lion and higher, Android 4.1 and higher, as well as on iPhone IOS 8 and higher. In addition to that, you can control sync speed.
Synchronization & Speed of OneDrive
OneDrive makes easy work of sync files with multiple operating systems (Windows Vista and higher, Mac OS X Mavericks or higher, Android 2.3 or higher, iPhone IOS 6.0 or higher, Blackberry, and Windows Phone (7.5 or higher). As you can see, OneDrive supports more platforms than Google Drive, therefore gives more choices. Like Google Drive, OneDrive also offers adjustments of upload and download speed. But, neither Google Drive nor OneDrive has incremental sync, which means that changed files will take much longer to sync.
When it comes to speed, upload time for Google Drive is 3:07 while the download time is 21 seconds. On the other hand, OneDrive uploads files in 3:45, while download time is 15 seconds.
Winner of OneDrive vs Google Drive Synchronization and Speed: OneDrive
OneDrive vs Google Drive: Application Integration
Both Google Drive and OneDrive allows integration with different applications that enhance the functionality and enables the user to achieve more results with cloud storage app. In this section of our Google Drive vs OneDrive, we will talk about all the integration allowed with each of our contenders.
Application Integration with Google Drive
Google Drive works with its free suite of office apps, including:
Docs (word processing and web publishing)
Slides (so you can make presentations)
Sheets (for making charts and spreadsheets)
Forms (for doing surveys and data acquisition)
Drawings (for creating diagrams)
It can be said that Google's office suite is somewhat equal to MS office, so it is also easy to use. If you are looking for other ways to make your work easier, then you'll love other apps that Google works with. Here are a few popular ones: PixlR Editor, DocHub, SmartSheets, and LucidCharts. With these apps, you will be able to express your creativity, by way of editing photos and documents or managing your projects.
Application Integration with OneDrive
On the other hand, OneDrive is integrated into OneDrive, so you have access to Word, PowerPoint, OneNote, and Excel. Unfortunately, you don't get Access and Publisher, unless you opt for 1TB Plan. As for using more third-party apps, there are many of these you can use, but their use is limited to Office 365 and Office Online.
Winner of Google Drive vs OneDrive Application Integration: Google Drive
Google Drive vs OneDrive: Security and Content Control
When it comes to how well your files will be protected with either of these services, we must disappoint you. Namely, neither of these two services offers a reasonable level of content control. Still, Google Drive is a bit better. To have additional protection to your precious data, we always recommend our readers to use a reliable and encrypted VPN.
Security & Content Control of Google Drive & OneDrive
With Google Drive both data-in-transit and data at rest will be encrypted; with OneDrive data at rest will not be encrypted. Now, this is a big problem, since your personal data will continuously be at risk.
Google Drive lets you inspect activities related to a particular file, and you can always see the changes that are made to a certain file. However, you cannot set the expiry date on your links, and set the password to protect those links. Non-native files will be kept for 30 days, but there is a chance to extend that period by manual setup.
Same as with Google Drive, One Drive doesn't allow you to set the password for links and expiry dates. While Google Drive supports file versioning for both native and non-native files, OneDrive does that only for native files. One Drive gives you an additional way to protect files, with a 2-way verification. When this option is activated, you will have to enter the safety code when logging in.
Winner of Security and Content Control: Google Drive
OneDrive vs Google Drive: Customer Support
Now we are finally to the point where we'll discuss the most essential aspect; Customer support.
Talking about the customer care, both Google Drive and OneDrive are on top of their game. They have skilled professionals to help you with anything related to the product. Google Drive even hosts 24/7 live support; you can contact them during the business hours, and if they are not available, call and email option are also available. Their response time is fast enough that you get the response very quickly. On top, we always refer to Google Drive Help Center which almost has all the questions answered. What impresses us the most is how responsive Google Drive Support is. They will not let you wait for hours and hours. Instead, they will start solving your issue ASAP.
As for OneDrive, there is a handy support hub also. It is specifically designed to give you explanations for common issues. You will easily and promptly find the solution you need, thanks to a convenient search bar. There is no live customer support, but despair not! Namely, Microsoft offers another way of supporting you – Answer Desk. With Answer Desk, you get help from a virtual assistant.
Winner of Customer Support: Google Drive
Final Thoughts in our OneDrive vs Google Drive Comparison
In our opinion, the winner of this roundup is Google Drive, as it offers a bit better performance and security level compared to OneDrive. Not to mention excellent customer support. However, we don't mean that OneDrive is not good. We believe that cloud storage is a game-changer, and you can do a lot with it, and every service provider is good in one way or the other.
For us, Google Drive takes the lead here. But, we'd love to know which cloud storage app you are using and how is your experience with it. We'd be happy to answer any of your questions and would love to know which comparison we should do next.