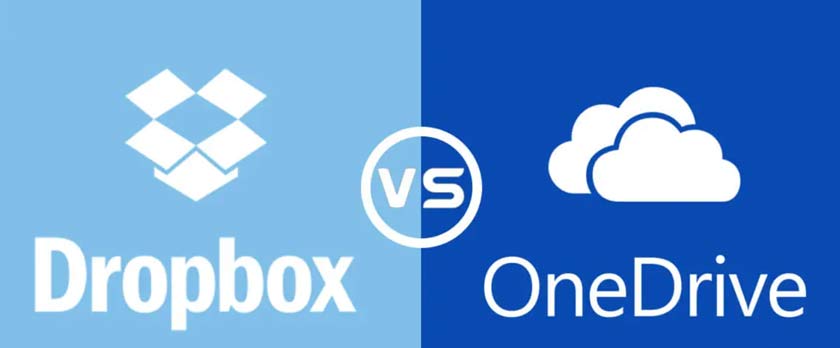 In this crazy (and awesome) world we live in, information and files are everywhere around us. Now, we are not only talking about useless info and files that you will forget about in a very short time. We are talking about those important documents, images, videos, and other files that mean a lot to you, and you want to keep them safe. This is where the Cloud comes into play. The cloud storage service is a way to keep your favorite files safe and only a few clicks away, without worrying if they can be erased. However, there is quite a number of clouds storage services out there, and choosing the best one for you and your wallet may seem like an unmanageable task. But, stop worrying, because we've got your back (files) covered. There is much debate on the OneDrive vs Dropbox topic, we thought of coming up with a post and share our opinion on the same.
This article was last updated on 26 September 2023
In this article, we will make a comparison between the two big fishes of cloud storage industry – OneDrive and Dropbox. Thanks to that, you will have a clear vision of what both of these cloud services offer, so you can opt for the one that better suits your needs. Our OneDrive vs Dropbox comparison will be split into different divisions to give scores on each level of competency. So, let the comparison Dropbox vs OneDrive begins.
OneDrive vs Dropbox Comparison: Overall
Before we start our in-depth review on OneDrive vs Dropbox, here is an overview of both the companies and key points on which one can consider the service. Please note that the below comparison table is solely editor's choice, individual needs and preferences may differ.
| | Dropbox | OneDrive |
| --- | --- | --- |
| Free storage | 2GB | 5GB |
| File Size Restriction | 10GB from web, unlimited with apps | 10GB |
| Is there a possibility of earning additional storage space? | Yes | No |
| Are there Business Plans? | Yes | Yes |
| Is there deleted data recovery? | Yes, there is a 30-days data recovery | Only for native files |
| Platforms supported | Mac, Windows, Android, iOS, Windows Phone, Kindle Fire, Blackberry, Linux | Mac, Windows, Android, iOS, Windows Phone |
| Rating: | 9/10 | 7.5/10 |
Now, let's get to work (detailed one), shall we? Below you will find an in-depth Dropbox vs OneDrive comparison that will give you enough info for making an sound decision.
What is Dropbox?

Dropbox is a cloud storage service that was launched in 2007. Dropbox can be used for storing any type of file, sync files automatically as well as for sharing files with your friends or co-workers. The basic account is free, offering you 2GB of free storage. Dropbox offers one personal plan option, but there is also a pro version that costs $10 per month, offering you 1TB of storage capacity. In addition, there is a Business plan that comes at a reasonable price. Speaking of the price, Dropbox is not much cheaper than OneDrive but supports a number of platforms including Kindle Fire, BlackBerry, and Linux. What's more, it is easy to use and offers a high level of protection. But, sync is what makes this unit stand out from its competitors, thanks to incremental sync that allows for faster upload and download.

PROS:
Easy and powerful file synchronization
File versioning and history available
Incremental backup and sync feature
Apps available for all major operating systems
Highly-secured file storage
Option to adjust upload and download speed
CONS:
Storage space is limited for basic account
A bit pricey, but worth it
Less Business and personal plan options compared to OneDrive
Awards of Dropbox:
Sharing and Content Control
Security and Data Encryption
Supported Platforms and Sync
Customer service
What is OneDrive?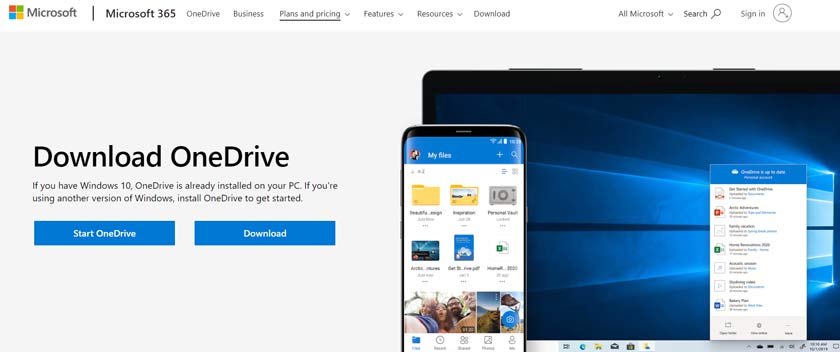 OneDrive offers more plans than its counterparts, both Personal and Business that come at a reasonable price. In addition to that, OneDrive offers more free storage space and has an affordable Personal Plan that gives you 50GB of storage space. It supports all major platforms but cannot support Linux. If you use Windows 8 or Windows 10, then OneDrive is pre-installed on your computer. However, you can download desktop apps and enjoy the benefits of this cloud storage service on your tablet, Smartphone, computer, etc.

PROS:
Easy-to-use cloud storage
Great-looking interface
Ample free storage space
More options when it comes to choosing a Business or Personal Plan
CONS:
Don't support Linux
Protection of your files is less robust
OneDrive vs Dropbox – Competency Check
Now that we have discussed each option individually, let's start our comparison of Dropbox vs OneDrive based on certain criteria. In each test case, we will review both OneDrive and Dropbox and see which turns as the best option.
OneDrive vs Dropbox Review Criteria #1: Plan Type; Personal and Business
Talking about the plans – Dropbox offers Basic accounts that are free, giving you 2GB of storage space. However, it also offers DropBox Plus for small businesses or Dropbox Pro for people who want more options and more space. If you and your partners want to have one account, choose Dropbox for the business that costs £10 (per user) a month.
On the other hand, OneDrive offers a few more options for business accounts, so you can choose the one that best suits your wallet and your needs. There is also a free basic account for individuals who want to keep their images and documents protected and in one place.
Overall, we believe that OneDrive is more reasonable when it comes to personal and business plans. So in our first round of Dropbox vs OneDrive comparison, OneDrive takes our highest recommendation.
Winner: OneDrive.
Dropbox vs OneDrive Review Criteria #2: Pricing
When it comes to the price, OneDrive offers more options for Business accounts and more storage space for a basic account than Dropbox. However, Dropbox services are not cheaper than OneDrive, making its competitor a better option when it comes to pricing. With OneDrive, you get to choose among three business options that vary from $60 per year to $150 while each of them also offers additional features such as email support, unlimited storage space or full Office 365 Suite.
Although Dropbox is a bit pricey compared to its counterparts, we firmly believe that it is worth a shot. However, since our focus of attention here is to review OneDrive vs Dropbox based on pricing, we announce OneDrive as the winner.
Winner: OneDrive.
OneDrive vs Dropbox Review Criteria #3: Storage Space
As already mentioned, Dropbox gives 2GB of free storage space, while OneDrive offers 5GB. However, Dropbox offers a couple of ways for you to obtain more free space. For example, you can do that through referrals, and get from 500MB to 16GB on a free account. My account has hit 30+ GB now, thanks to Dropbox and all my referrals. In case you need/want more space, you can opt for Dropbox Pro, where you will get 1TB and 1GB of extra storage space for each referral. The maximum amount of additional storage that you can get through referrals is 32GB.
As for OneDrive, if you need more space and are willing to pay for it, then there is an affordable plan of 50GB. This is a great option for those who don't need 1TB of storage space, as it is much cheaper. But if you need unlimited storage space, you can choose one of the three Business plans, at a fair price (considering what you get with it).
As more of us (including me) prefer to use the free version, Dropbox gets our vote of confidence here. Trust me; you'll enjoy the awesomeness of Dropbox with its free account.
Winner: Dropbox.
Dropbox vs OneDrive Review Criteria #4: Sharing and Content Control
Now, even though using both of these cloud storage services is not a rocket science, the ease of use still can help you decide which one of the services as mentioned earlier would be a better option for you.
Dropbox
You can upload any file to your Dropbox account, through the website or add the files via desktop apps. Dropbox website has a basic and plain design, so you will not have options for organizing your files. However, desktop and mobile apps will give you that and are also easy to use.
When you want to share content, there are two ways to do that: either via an email invitation to a certain group of people or through a link that anybody can use. Now, the second option means that you cannot completely control who can see your files. In case you are using Dropbox Pro plan, you can set passwords for folders you want to share and expiry dates on links.
As for deleting files, with a basic account, there is a 30-day data recovery, while with a Pro version all files (including deleted ones) will be saved for a whole year. Just keep in mind that this service will cost you extra money ($3.99 per month).
OneDrive
Those who use OneDrive can share the content from a desktop, or OneDrive's desktop, through emails, a link that everyone can use, or through limited access. The main downfall of this service is that it won't protect your links with expiry dates and passwords. This means that shared content can be sent to wrong people without you knowing anything about that. Needless to say, this can be a big issue. In addition to that, only native file types can be recovered in 30 days.
On the bright side, OneDrive features a user-friendly interface and as such is one of the best-looking cloud storage services. OneDrive makes sure your files and folders are in perfect order, searching for a certain document a whole lot easier. Moreover, with an Office 365 subscription, you can easily alter the document or see the alterations that your friends or colleagues made in a certain file. Best of all, you can share multiple files at a time, thanks to a well-organized interface.
Wow! Both the services are just too good for sharing. However, the above review of OneDrive vs Dropbox has to conclude one as the best option. So as far as we judge, Dropbox is comparatively a better option for you as it gives you more control and eases to collaborate.
Winner: Dropbox.
OneDrive vs Dropbox Review Criteria #5: Security and Data Encryption
Now, let's see how safe your files will be with these services.
For Data encryption, Dropbox uses TLS/SSL and 128-bit AES encryption in order to protect files that are in the process of transfer. When files arrive at the data center, content will be decrypted, and then again it will be encrypted with 256-bit AES. However, metadata will be left in plain text. Dropbox takes care of customer's security by way of having a strict policy on its employees gaining access to certain user data. Moreover, Dropbox offers to users a two-factor verification that helps in protecting their files and folders against weak passwords. If you want to enable this option, the code will be sent to your phone, for a verification of your identity.
OneDrive data is also encrypted via SSL/TLS while in the transfer. But, data at rest encryption will only be protected if you have a business contribution. Meaning, personal user's data will be unprotected, making it easy-to-access by anyone who can hack the data center.
So, the winner of this part of Dropbox vs OneDrive comparison is definitely Dropbox, offering much more security options for your files and folders.
Winner: Dropbox.
Dropbox vs OneDrive Review Criteria #6: Supported Platforms and Sync
Now, supported platform and sync go hand in hand, so we cannot separate them. When it comes to supported platforms, both Dropbox and OneDrive give you a plenty of options to access your files at any moment.
You can access your files in Dropbox by way of using desktop applications for Windows, Mac, or Linux (Fedora, Ubuntu or Debian). Or you can simply download Dropbox application to your Android device (4.1 or higher), iPhone (iOS 8 or higher), Blackberry or Kindle Fire and go through your files on the go. As for the speed, files will upload/download a bit slower than with OneDrive; measuring the average upload time 4:44, and the average download time 0:19, while OneDrive will upload a file in 3:55 or download in 0:14.
However, Dropbox excels in sync, because of the "incremental sync." That is a process of file transfer where changed parts of a certain file are synced. Meaning, Dropbox saves both your time and system resources. In addition to that, DropBox users get the chance to control both download and upload speed.
On the other hand, OneDrive comes pre-installed on Windows 8 and Windows 10. But, you can download a desktop app for other versions of Windows and Mac, or access your account from Android or Windows phone, iOS, Blackberry and even EBox. However, OneDrive neither features incremental sync as Dropbox does, nor it supports Linux variations.
Winner: Dropbox.
OneDrive vs Dropbox Review Criteria #7: Customer service
OneDrive customer service offers you videos and how-to articles on your PC, Smartphone or MAC, for making the most out of this cloud storage service. As for Dropbox, you can also find helpful articles on their website, as well as get guided help or Twitter support. Even though both services offer good customer support, with Dropbox, there are more options for seeking help, making it a winner of this round.
In general, our Dropbox vs OneDrive concludes that Dropbox is more organized than its counterpart. You'll get useful resources which will guide you through all the steps in using and troubleshooting cloud storage.
Winner: Dropbox.
OneDrive vs Dropbox: So which one is better?
And there you have it – everything you need to know about these two storage services in order to choose the best one for you. Based on our review, it is clear that both of these services have a lot to offer. However, taking into account all the remarkable features and possibilities that Dropbox provide along with a high level of protection, we are happy to say that Dropbox is the winner of OneDrive vs Dropbox comparison. With this cloud service, your files will be protected and accessible at any moment, whether it be on your smartphone, tablet, or a computer.
Well, that would be all from us. You can also check other cloud storage providers in case you'd want to explore more options. We hope this article helped you and we would be happy to hear your experiences in regard to these services, so don't hesitate to leave your comments below the article.